Losing grip – On wheels and The Wall
G'day folks! Do you remember the fall of the Berlin Wall? I can't say that I remember the exact date, but I clearly remember hearing the dramatic news on the radio. Years later my wife got to know a German who grew up on the Eastern side of the wall, in former DDR. Her strongest memories of the changes it brought are about chocolate.
While Berlin was still divided, when her mother sent her to the grocery store to buy a chocolate bar, she bought The Chocolate Bar. There was simply and exactly one kind of chocolate bar to buy. A couple of months after the Wall fell, there were dozens of dozens of kinds to choose from.
In just a few months, something very simple, became a lot more complicated for her. Mind, I am certainly no communist and am very grateful for the abundance of choice we generally have in Western society in general, but it does mean that a lot of time can be spent choosing, rather than enjoying.
Like right now. With a little help and insightful input from you readers, I have chosen my SCX10 III to be the main rig of this summer. It doesn't tick all the boxes, but it ticks the most important ones. First and foremost, it is far less likely than a heavier 2.2″ rig to break. Secondly, should something struggle, it is easy to wrench on. Just pop the lid and get to it. No zillion of screws just to get the cage off.
Well, that wasn't so hard to choose. But tonight I actually had trouble sleeping thinking of wheels. Trouble sleeping over which wheels to get for a toy car?! Absolutely ridiculous, not to say outrageous! I spend enough nights working, not to struggle sleeping over hobby matters in my time off! It's just that there's such an immense number of options out there. Vanquish, Treal, SSD, LockedUpRC, RC4WD, Pit Bull, Yeah Racing… Licensed, non licensed, five spokes, six spokes, D-holes, Methods, Racelines, Mickey Thompsons, blue, grey, black, scale hubs and scale bolts in black, stainless, zink and so on, and so on.
Why then bother? Well, have a look at this picture from a trail run last weekend once again: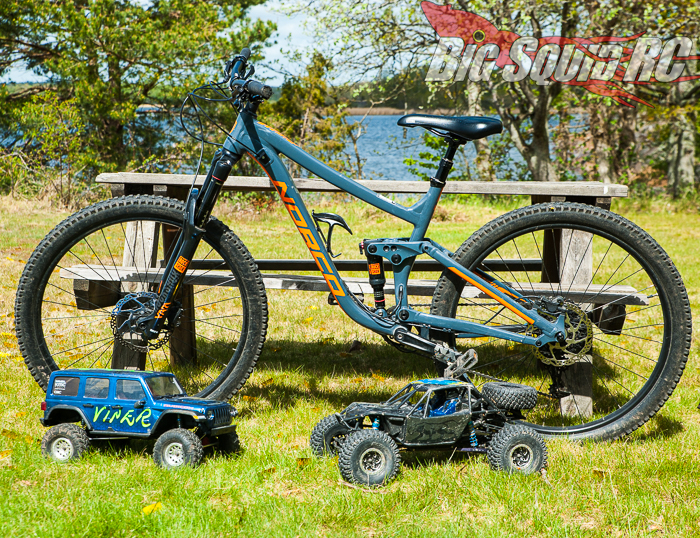 Eagle eyed readers will immediately spot that the front tire of Viper has popped. My rock racers both have SSD beadlocks, and despite running them a lot harder, I have never had a wheel pop like that of Viper's. It took but ten minutes to fix it, but if you ask my family and depending a bit on when such things happen, that's either ten minutes too much or ten minutes way, way too much.
So, that's not gonna happen this summer. Aluminum beadlocks it will be. And they need to match the new body that I ordered yesterday. I have realised that blue doesn't stand out enough in pictures, so I am probably going for a yellow one instead, with black details. Nice and simple, vivid and visible.
Bottom line: a new look and tires that pop, requires new wheels. I will not suffer any more sleepless nights over toy wheels. Aluminum wheels are expensive. The Berlin Wall is down and choice is close to limitless.
How to win this one? Can't be done. What I can do is to stick my tongue out to choice and limitless options and say: "Hey, whoever said I needed to limit my options to just one? I'll have two, thanks!" 'Cause whoever ever said that all four wheels need to look the same? After all, there's at least two sides to every option, but you only ever see one side of a car at a time…
Gotcha! Order placed. One up on me.
To read an older column, hit the link!