Losing grip – Painting, fading, learning
G'day mates! I hope you've all had a good Christmas and that you got some RC stuff from Santa. I did and did not. Christmas was great, but no RC stuff for me this year, somewhat surprisingly. My wife forgot about the Vanquish VS4-10 I had on the top of my list and gave me an Exit game instead. Or did she "forget" it, and give me a kind of date? Sometimes it's hard to say. We'll play it together, and it will be fun. And the VS4-10 Trailfinder will be finding its way to my house some way or another, within a month or two.
While on the topic of spouses, I really thought the runway was cleared for another car to enter my garage this Christmas. See, for the last seven years she has never really understood why anyone would ever need more than one RC car. I have seven. Sorry, eight. But finally, sometime in November the revelation happened! She looked at me in a both loving and resigned way saying "I've come to accept that  you might not have bought your last car yet." Bingo!
But I digress. Lacking a new car to build, I am working on a new body for my SCX10III. Masking it using mainly a vinyl cutter, complemented with Tamiya tape, painting it using airbrush and Createx Transparent colors, mainly. Always eager to try new things, I started by masking and painting the wolf, then masked the mountains using vinyl applied on top of it.
This did not work out quite as well as I had hoped, when I removed the vinyl some paint came off with it. I can't say I was overly disappointed, since I was experimenting. I almost expected it. In the picture below you can see how part of the wolf's hind leg is gone.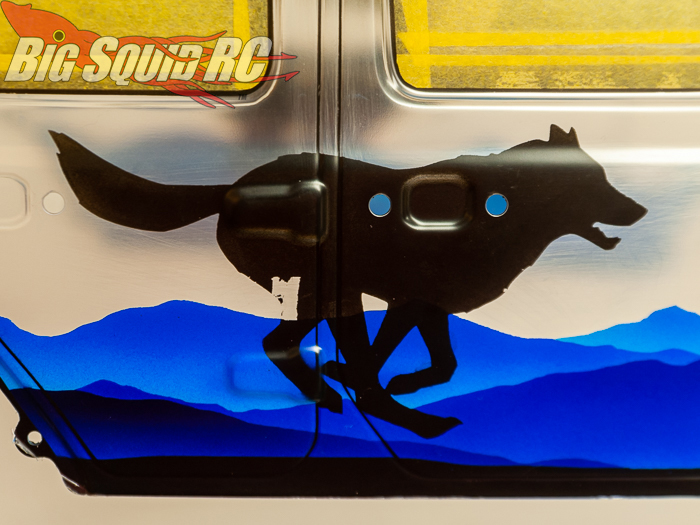 Live and learn. The upside was that this gave me an opportunity to try brush painting on lexan. No problems, it turned out. Took lots of thin layers though. Below you can see it from the inside, a few more thin layers are needed.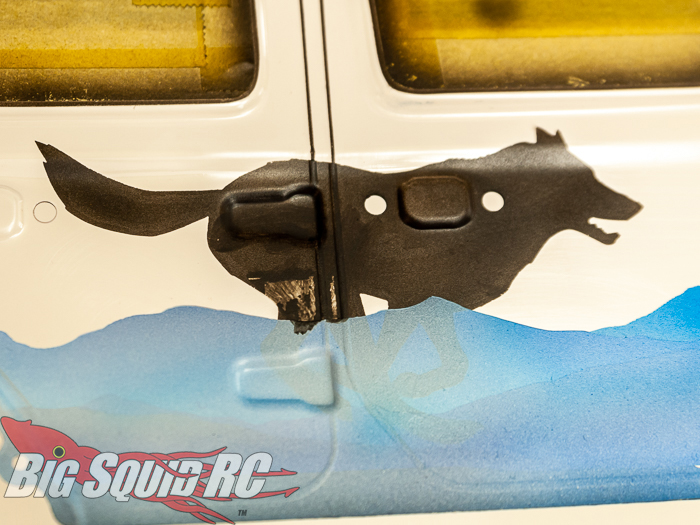 Apart from this little mishap, I am happy so far. The transparent range of colors from Createx are great for doing color fades, as seen on the mountains. Working order is opposite from normal: rather than starting with dark colors, I start with the bright ones and then back it with progressively darker shades. Lots of thin layers, think fifteen, until I am happy with the result. Having pre-thinned paint in dropper bottles helps a lot in this process.
Panel lines, wolf and mountains painted, the sky remains. I am aiming for dusk, the sun just below the horizon. A hint of yellow going first to almost wight, then light blue and almost black around the moon on the hood.
Akela it will be named. If I have a lion called Simba, I obviously need a wolf called Akela. One for the cat persons, and one for dog lovers.
Once painting is done, I have a zillion accessories from Club5Racing to top it off. The end result should be great, and if not, there'll be no one but me to blame for it.
To read another column, hit the link!