Losing grip – Project time
Any good project starts with a little bit of dreaming. That's the easy part. After dreaming comes pondering, then calculating and compromising runs in parallell for a while, eventually reaching the decision point side by side and slightly irritated with each other. Both have to be involved, neither can win.
Decision point is where it all turns around, but this time calculating and compromise are no longer bickering about boring things like time and money, but about sizes, ratios, colors, designs, speed, durability and all kinds of fun stuff. I am sure you know what I am talking about. Kit or RTR? Buy something slightly cheaper now, or save up a bit and get something better later? Maximising speed or torque? Grip or longevity?
For my next project, I have had the good fortune of not having to do some of the basic choices. The guys and gals at amainhobbies are kindly sending me an Axial SCX24, and knowing how fast Swedish customs are working it should arrive any year now. Looking at it from a geological perspective, that's pretty much in a blink of an eye. Considering the bigger picture can be very comforting at times. But I digress and exaggerate, I actually just got word from the Deities of forms, papers and red tape that it's just about to arrive. Hence, if I want to be off for a head start, I need to get going.
The Axial SCX24 is cool, but it could be even cooler. First, it will need a better body. This is were the calculating started for this project. There's not a lot of polycarbonate body options around for this one, and the ones Pro Line offers are cool, but not quite what I am looking for. Luckily, 1/24 is a popular size for plastic model car kits, so that's where I started looking. In fact, the size is so popular, that I was pretty overwhelmed by options. At least, that's what it seemed like at first. However, the wheelbase of my chosen body, would obviously have to fit the wheelbase of the SCX24.
This is where I started calculating, and compromising. The SCX24 has a wheelbase of 5.2 inches. In real life, that equals 128 inches, a pretty long car. What to do? I browsed literally hundreds of model kits, and picked about a dozen candidates. Then, for each one, I looked up the wheelbase of the real thing, to see if it would match the SCX24 chassis. Most of them had to go. The Range Rover Classic for example. It has a wheelbase of 100″, which equals 4.17″ in 1/24 scale. That's 1″ too little, wouldn't match up with the chassis at all. Same thing for the Toyota BJ44 Land Cruiser.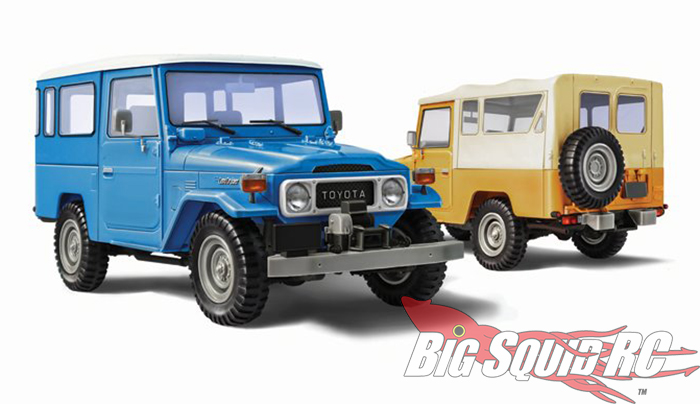 Really cool, and I have some fond memories of me and a bunch of hens bumping around in the back of one of these on dirt roads in Africa, but the wheelbase is way too short. Unsurprisingly, for a long wheelbase, Americans can be trusted. Among my many options were a 1978 GMC Pickup, and a bit of googling had me know that it has a wheelbase of 117.5-131.5″, depending on model. That's pretty close to perfect, and the car in itself is a looker. Decision made, and today I've got the plastic model kit sitting in front of me. I mentioned it last week, this is why I got it.
The second reason for getting a plastic kit rather than a polycarbonate body, is painting. I am decently skilled with an airbrush, and painting on the outside rather than the inside opens up a lot of options. Now I'm off to have a look at original paint schemes, as well as modern ones. Traditional or modern custom look? Choices, choices, choices… Any opinion on the matter? Drop me a line at martin at bigsquidrc dot com.
To read another column, hit the link.