Loosing Grip – Pure Awesomeness!
Today I have a treat for you. A couple of weeks back, I wrote about what might be a good starting point to get into this niche of the hobby. Today I will take you to the other end of the spectrum. Today I will show you (drumroll…): the winner of Best Body at the D1-10 Drift World Championship 2019!
This car truly represents the very best of the best, and it is a joy to be able to feature it in this column. Shortly after I saw it for the first time, I picked up my jaw from the floor, and then got in contact with the builder behind it: Vivian Grobler. Vivian is the man behind SRC Sideways RC, a manufacturer of really cool scale accessories for both drifters and crawlers, that is well worth checking out. Whenever I get around to really step up my scale game, those bucket seats, harnesses and window nets of his, shall be coming my way.
Vivians BMW however, is not the work of a 3D printer, but the result of putting a real car in a Quantum Shrinking Machine. I don't know how Vivian managed to get hold of such a contraption, but I want one! An easy, albeit rather expensive way of doing it, but that's how to achieve truly stunning results.
Jokes aside, this BMW is the result of meticulous handcrafting. 330 hours of it! It started with a BMW M3 E92 body from the European manufacturer Driftmeister. This covers a Yokomo YD-2SX chassis, with ESC, gyro and motor also from Yokomo. The color scheme is hand drawn, inspired by a BMW M3 seen in Driftmasters, using liquid mask to accomplish it.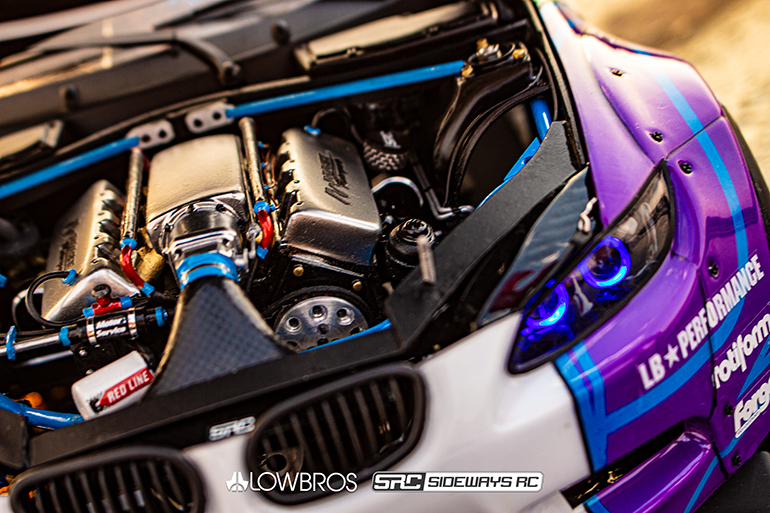 While the purple and green paint scheme is striking, the engine bay is even more impressive. The engine itself is scratch built from styrene, and based on the Mast Motorsports V8 found in the BMW M3 Eurofighter. Look it up, and you will see just closely this RC car resembles its 1:1 counterpart. In order to show off the engine, the bonnet needed to be hinged, and this turned out to be one of the hardest parts of the build. After eight tries, Vivian had the BMW hinges replicated and working correctly. Now that is dedicated!
The roll cage was hand built using acrylic rods, which were then sanded and painted. Acrylic rods were also used, in conjunction with led lights, for all the lights. I was curious to find this out, cause those headlights are stunning indeed and something I will research further. The interior as well as the details in the boot were also handmade from styrene and acrylic.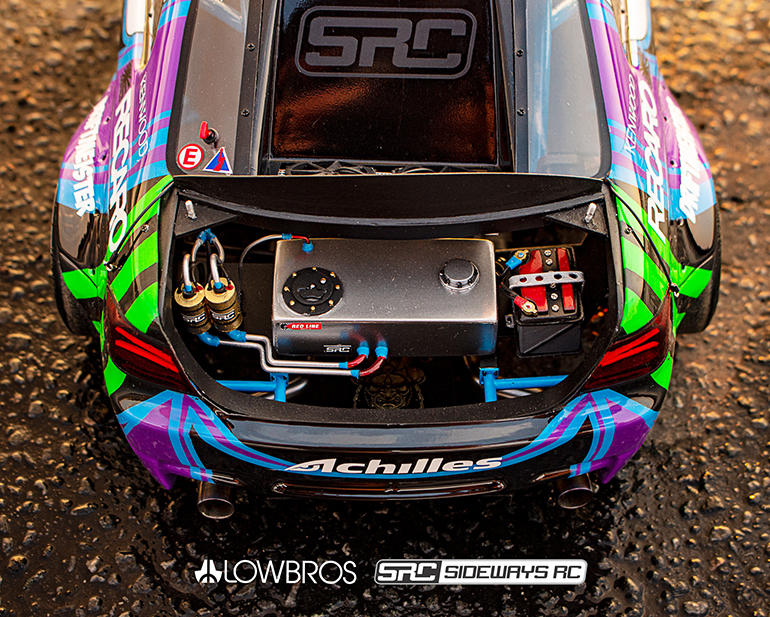 As far as tips to budding builders, Vivian says that patience is the key. Spending that bit of extra time to get things perfect, and using pictures for reference. I for one, could use a bit more patience for my builds.
This BMW is built to a standard way above anything I will ever accomplish. Still, I find builds like this inspiring. It gets my brain going, and pushes me to spend just a little bit more time on my next project. Maybe spend just a little more time on some of the details, maybe try something I haven't done before.
Now take another look at the pictures. Be inspired! Get out, and get drifting! And see ya next week!
Want to delve deeper into drifting? Hit the link.