Losing grip – Red Bull Mustang
For this week's column, I have the pleasure of featuring a build by Vivian Grobler, the man behind SRC Sideways RC. Vivian is an absolute top notch builder, and the well deserved winner of Best Body at the D1-10 Drift World Championship 2019. You might remember his winning BMW M3 E92 from this column, if not, you're in for a treat.
Vivian is an industrious man, not only putting out lots and lots of really cool scale accessories, but also producing a steady stream of absolutely stunning bodies. A particular favorite of mine, is this Red Bull Ford Mustang GT4 Rocket Bunny. It doesn't have all the interior detailing of his BMW MR, but then no one is likely to drive around with the bonnet open anyway. What it does have, is a top notch paint job. Just look at it! Awesome!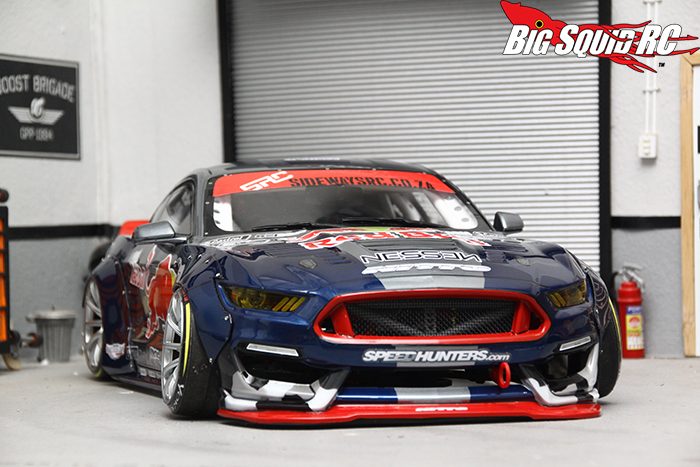 And what's really interesting about the paint job, is that it doesn't have a real life counterpart. The look is one hundred percent Red Bull, but it is an original design by Vivian's, accompanied by graphics made by his mate Richard O'Reilly. Spot on! He said that he wanted to do something different than the usual Monster Energy or Falken Mustangs, and boy did he manage!
The use of color, that you can read more about in this column, bears a mention too. It's essentially a triadic color scheme (three colors, evenly spaced around the color wheel) with a muted blue, popping red details and yellow for a spot color. This is then cleverly complemented by neutral grey, white, and black to make it all a bit more interesting, but without interfering with the dominating colors. The use of red is very well balanced, visible from every angle, but without ever being overpowering. Lets repeat the front page picture: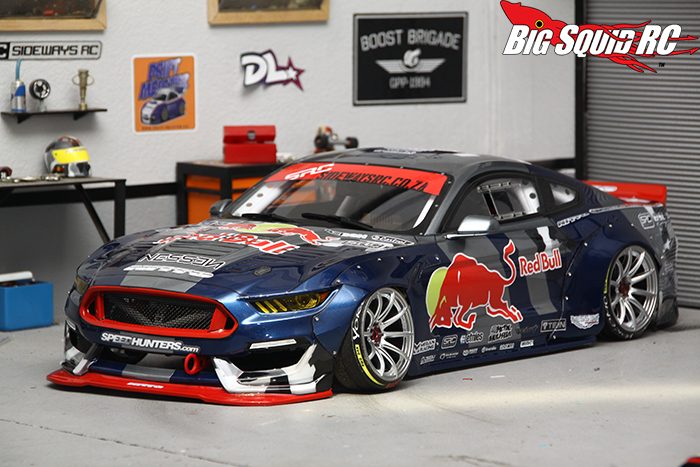 While the body is a Tamiya Mustang, the Rocket Bunny kit and Ducktail wing are both from Sideways RC. To be specific, the fenders are the stl 11, slightly modified to fit around the front lights. The full roll cage was scratch built from styrene sheet and tubing, while the bash bar behind the grill and rear bumper both are from SRC. Same goes for the rear cooling kit at the window.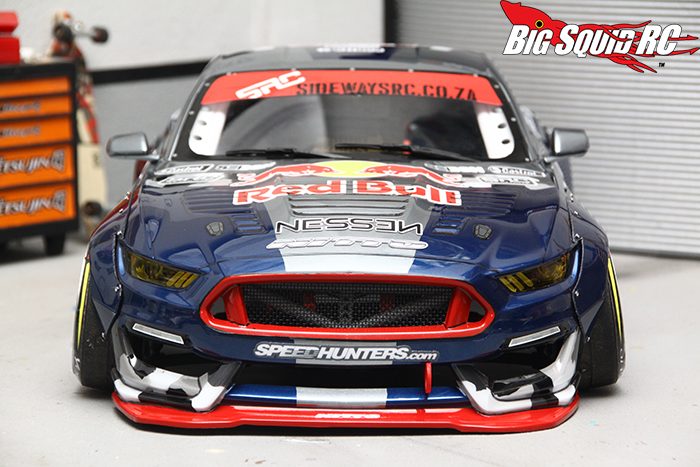 Thanks a lot Vivian, for letting me showcase another one of your beautiful builds on BigSquid RC! Keep up the good work!
Sideways RC produces a wide range of accessories, that are really worth checking out. Although he caters mainly for drifters, it is really worth checking out for anyone into scale builds.
To read more Losing Grip columns, hit the link.