Losing Grip – SamixRC TRX4 brass upgrades review
One of the easiest ways of improving your rigs crawling performance is to move its center of gravity closer to the ground by adding weight down low. The further down, the better. In other words: think around the axles. Portal covers, C-hubs, knuckles, differential covers and such. There's numerous brass options available, and I have had the pleasure of trying out som of those offered by SamixRC on my TRX-4, namely their brass portal knuckle heavy cover (182g/pair), the , the V2 brass hub carriers (82g/pair), the brass knuckles (102g/pair) and the rear hub carrier and portal drive housing (133g/pair). That's 681 grams of brass at axle level! After a lot of wrenching, measuring and driving, a review is due.
First, on the general topic of adding weight below the center of gravity (CoG for short, more on that here), be careful about adding weights directly to the wheels (increasing rotational mass). That might add a lot of strain on your gear train and motor. I say might, since the effect of increased rotational mass depends on wheel speed and precisely where that mass is added. I won't go into details here, but the essence is that you need not worry if you only drive at slow speeds, and weight close to the axle (like SLW brass hubs and brass hexes) causes a lot less strain than weight farther from it (like wheel weights around). More on rotational mass in this column.
Now, back to the topic at hand: SamixRC's numerous brass options for the TRX4. When considering which brand brass one might add to a rig, there's a couple of different things to take into account: fit and finish, weight and price. I'll be looking at them each in turn.
Fit and finish
In one word: impeccable. The black finish is pretty much perfect, the chamfered edges are beautiful. Were it not for the weight, the brass portal covers could be used as ear rings. Installation is a breeze, perfect fit through and through. An interesting note is that not all hardware provided is stainless steel. Where appropriate, screws are high quality (grade 12.9) black oxide instead, which is a lot harder than stainless. More on hardware materials in this column. Clearly, they have put some thought into this, much appreciated.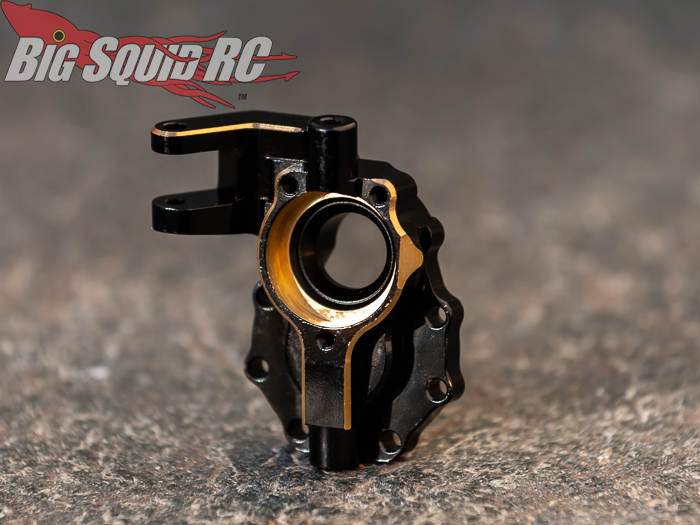 Spread across my cars I have numerous option parts from SamixRC, SSD RC, Vanquish, Axial, LockedUpRC, ST Racing Concepts, Yeah Racing, Hot Racing, Boom Racing and more. In my opinion, the price for best craftmanship goes to Vanquish and Samix. To some extent, this is a matter of taste. Samix's parts are black with a brass coloured chamfered edge. The parts from Yeah racing are completely brass coloured, giving your car a lot of shiny bling should you like that. SSD's brass portal covers have an inconspicuous gun metal finish, and STRC's are completely black. I'm fond of Samix's discrete elegance, but your mileage may vary. Also, the portal covers come with scale brake discs and callipers that really adds some scale looks. Take it into consideration when choosing wheels, I did. The brake discs and RC4WD Raceline Octanes compliment each other wonderfully.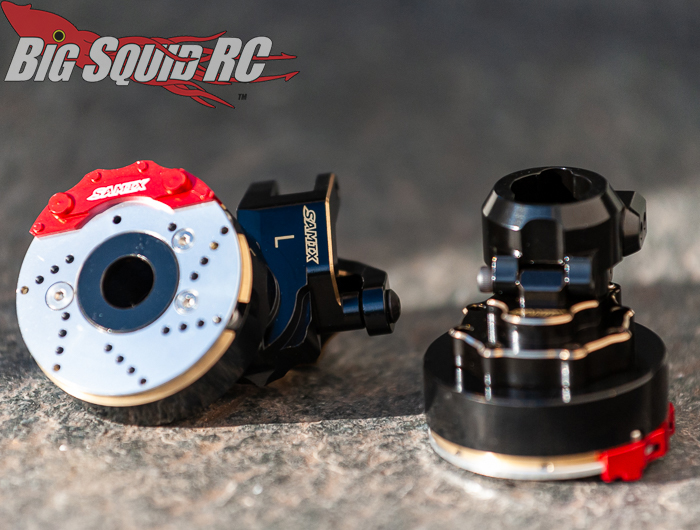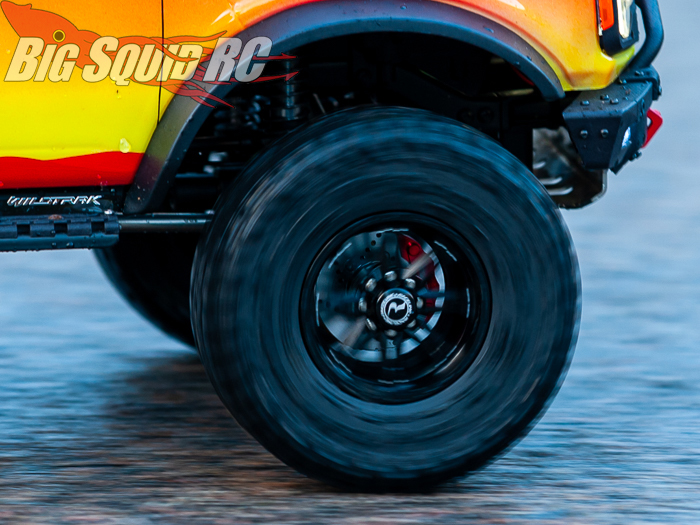 Weight and price
No subjective opinions on this topic. Samix's parts are not the heaviest available, neither the most expensive. If you're solely looking to add every gram possible, Yeah Racing offers the heaviest parts I have found, but those extra grams comes at a heavier price tag too. I haven't done detailed calculations for every option available, but looking at the price as dollar per gram of brass, Samix tends to sit in the middle of a pretty tight pack. In general, regardless of brand, portal covers seem to add the most weight per dollar, steering knuckles a fair bit less.
Performance
Finally, will your car perform better with brass upgrades? Highly likely yes. Using the Lean-o-Matic I presented in this column, I started by measuring things in the lab, so to speak. The added weight of portal covers, knuckles and C-hubs made a very noticeable difference in how much the car can lean before rolling over. In the merged picture below you can see maximum side angle before and after brass options were installed.
It might not look like much, but in real life on the trails and rocks it is a marked difference. The car becomes a lot more stable, way more planted to the ground. Less bouncing, less of rolling over (and fear of rolling over), more scale. Were I to add dual stage foams, the difference would be a fair bit bigger. As the car leans more and more the wheels tend to fold, effectively decreasing the base of support. In the picture above you can actually see how much more the wheels have folded when the car leans a bit more.
Final verdict
Lowering the center of gravity on a crawler or trail truck makes for a better handling truck, more planted to the ground and less prone to falling over. In many ways it's a no-brainer. The numerous brass option parts from SamixRC are at the top of the pack when it comes to fit and finish, and regarding bang for your bucks leave nothing to be wished for. There are slightly heavier options available, at an increase in price pretty much proportional to the added weight. Mind that the added weight means that single stage foams might struggle. While not necessary, if you want to get the most out of added brass you should consider getting dual stage foams. Also, if your motor and ESC are running hot already, you need to keep a close eye on their respective temperatures.
In short: if you're looking for brass, I can highly recommend the upgrade parts from SamixRC. Perfect fit, beautiful design, great finish, good price. What more to ask for?
…and a happy New Year everyone!
To read another column, hit the link.