Losing grip – SSD shocks for Axial SCX10
Shocks might as well look good, right? Hence, I've bought myself a set of SSD shocks for my SCX10. If you ask me, shocks are a necessary evil. I am not very fond neither of building, nor of tuning them. It's something that should simply work. In this I am sure that I not alone, proof in case being that the Traxxas TRX-4 kit comes with pre built shocks.
But even though I don't like shocks, I decided to buy some new ones. Actually, it was a very spontaneous thing. I was out with me daughter and SCX10 the other week, and noted that the torque twist was absolutely horrible on flat ground. The left wheel actually scraped the wheel fender, making a complaining noise about it too. The quick fix was of course to simply adjust the upper spring retainer, increasing the ride hide on the back left wheel. I reached in behind the wheel, started screwing on the ring, didn't really see what I was doing, and ended up screwing off the shock body from the shock cap. That didn't exactly help the lack of oil the shock was suffering from.
Knowing that I had some store credit at amainhobbies, I decided to blame the incident on equipment rather than admit it was to poor handling on my side, and ordered a new set of shocks as soon as we returned home. I had a look at some forums, and people seemed to be happy with the SSD shocks, so that's what I got. Also, I have plenty of SSD upgrades (axles, knuckles, hubs, gears and so on) already, and have been very satisfied with their stuff so far.
To my great surprise, the shocks arrived in about two weeks. Unprecedented. I haven't had time to install all of them yet, but have had a good look. At 90 mm eye to eye, they are 4 mm shorter than the stock shocks. They have less travel as well, 24 mm compared to 30 mm. They excel in looks though, the blue matching my Samix RC bronze portal covers perfectly. The shock caps screw onto the inside of the shock body, rather than the outside, giving them a very sleek look. It also means that it was a bit more difficult than usual to get the amount of oil right, but not much of an issue.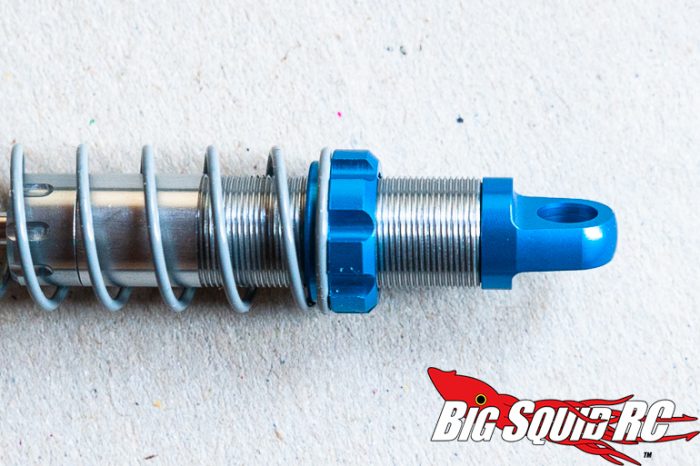 The bottom spring retainers don't have the retaining screw of the originals, but since the shock pistons are the same diameter, these can be exchanged should you like the screw option. I am not particularly fond of it, since it means yet another screw to unscrew when rebuilding shocks. SSD retainer to the left, Axial to the right:
I have to admit that I didn't check all the numbers very closely before ordering, so I was a bit surprised and slightly disappointed when I realised that the shock travel was 6mm shorter than that of the original shocks. However, at least as far as the rear is concerned, I don't think this will be much of a concern. My SCX10 is equipped with portal covers and knuckles from Samix RC, adding a lot ow weight and lowering the center of gravity significantly. I covered these in depth here, and highly recommend them.
With the additional weight the Samix upgrades give me down low, I am able to climb steeper inclines than before, which puts a lot of weight on the rear wheels. A bit less travel than before might actually improve performance a bit, but that remains to be verified on the rocks. It also remains to be seen if they leak as much as the originals, but I feel pretty confident that they don't.  Would suits me perfectly: build and forget. For the record, I am going with the 70wt oil in the rear, and 30 in the front, hoping this should help counter the torque twist a bit. We'll see.
Snow has fallen. It seems as if the limiting factor will be grip the coming months. Maybe time to get a TRX-4 with tracks? Time to be off and start bugging both Boss Man Brian and my wife about this. Cheers!
To read another column, hit the link.