Losing grip – Stay Galm
If Yokomo and MST are the Ferrari and Porsche of the RC drift world, then Overdose is Koenigsegg. A smaller brand, with less brand recognition, but cutting edge technology and record-breaking capabilities. While the Bugatti Chiron might hold the present top speed record, Koenigsegg Regera holds the record for 0-400-0 kilometers an hour (yes, that's 249 mph) at 31,49 seconds, and the new Koenigsegg Jesko Absolut is expected to reach top speeds of comfortably over 310mph (500km/h). That should beat Bugattis present record which sits at 304.77.  What's even cooler, is the gearbox of the Koenigsegg Jesko, capable of shifting between any forward gears in milliseconds – unlike dual-clutch transmissions that only work in single gear intervals. Also, the car looks awesome: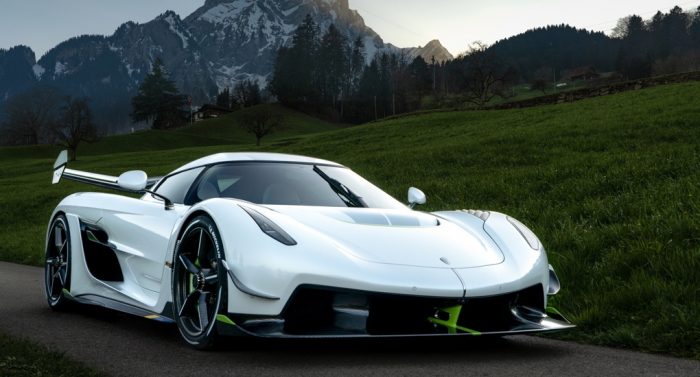 That's Koenigsegg to you. Premium car, at a premium price. Some three million dollars, so make sure you increase your credit limit before you swipe your card for one.
Overdose is sort of the same kind of deal. Premium technology, at a premium price. Surprising it is then, that their newly released Galm version 2 is priced at 369 bucks. Unless you want the version with all the fancy aluminum bits, which is priced at 200.000 yen, which should be roughly 1.900 USD. That's even more expensive than MST's premium offerings, but then you do get their floating motor system, which is a unique feature of Overdose.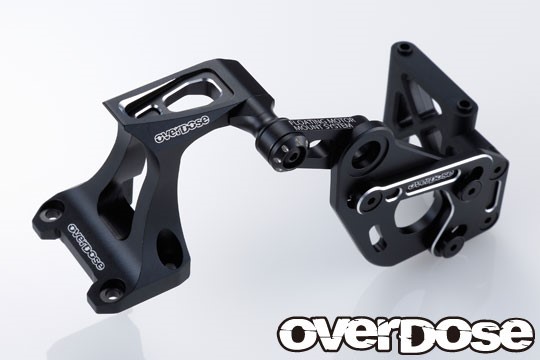 The floating motor has been around since 2018 and is an interesting concept. I am very curious to see whether Yokomo or MST will offer something similar in the future. What it is doing, is trying to bypass physics. When a motor turns one way, the chassis will turn the other, so as to maintain a balance in the force. Newton's third law: each force has an equal and opposite reaction force. This can be utilized to transfer weight – and through weight, grip – to the rear tires during acceleration. The problem, however, is that it will create a lift of the front tires, and hence less traction.
With the floating motor mount, the motor isn't attached directly to the chassis, a kind of lever is introduced between the two. This allows the counter force from the motor to be transferred to the rear, but without lifting the front tires. Pretty clever. Increased grip, but maintained grip balance between the front and rear. I am not a good enough drifter to have much benefit of this system, but my inner physicist finds it really interesting.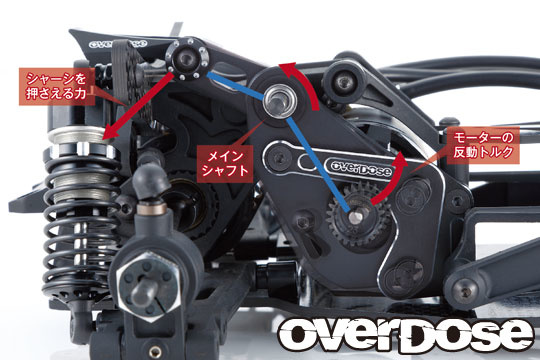 The new galm also has a sliding steering rack, rather than the usual lever design. This should mean greater steering angle, more adjustment options and less slop. I've never tried one, don't think I need one, but again like the concept. But I would like the in-board front suspension, since that let's you change ride hight with a turnbuckle, rather than at the shock itself.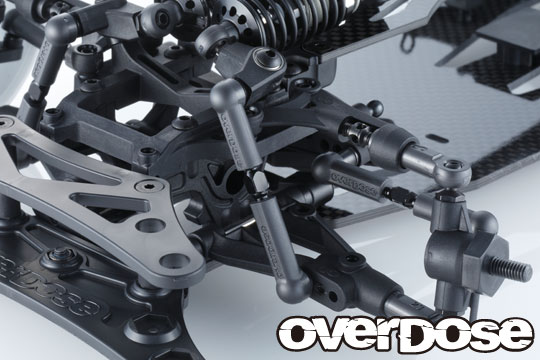 What I am surprised not to find on the new Galm, is active rear toe. Seriously, the budget friendly MST FXX 2.0S has this, so why not the supposedly always fancy Overdose? Can't tick all the boxes, I guess. Gotta leave something for later upgrades.
As I said, my take is that Overdose is the equivalent of Koenigsegg, especially so with the Galm version 2 upgraded kit version.  That means two things: first I want one, and so do you. Second, since I already drive a Ferrari (sadly only figuratively speaking), I probably don't really need it. But the basic version? Yes please, looks like a serious competitor to YD-2SXii to me.
Click the link to read another column.