Losing grip – The best looking wheels and tires out there
With these tires I fell in love at first sight. For comparison, with my wife I fell in love at about the one-hundred and first sight. While the latter admittedly was on a rather different level, that does in no way subtract from the fact that the BFGoodrich Mud Terrain T/A KM3 2.2″ from RC4WD are the best looking 1.9″ wheels out there, period. If your opinion is different, you are suffering from a case of bad luck when you're thinking. Think again. Also, look again.
I'm not a wheels person, as far as brands and such go. As a kid I had a poster from Goodyear on my wall, depicting a number of Dakar rally cars using their tires. Back then I was quite into cars – rally cars and formula one in general, Ferrari in particular – but tires was never a thing to me. Hence, all other things equal, I will chose a licensed Goodyear tire before any other brand, due to that poster way back in the late eighties. But with minimal affiliation to any brand at all, for scale tires I simply go on how good they look.
The thing that sets the aforementioned BFGoodrich tires apart from the crowd is of course their outer diameter. It's a 2.2″, with the outer diameter of a regular 1.9″: 4.73in, 120 mm. That is awesome, since bigger wheels in general look better than smaller wheels. In the case of wheels, more is better. To my eye, 1.9″ wheels have always looked a tad too small on 1.9″ cars. 2.2″ is the way to go.
My mind dead set on these tires, choosing wheels to go with them was a breeze. For once, I should add. I usually take ages to decide on wheels. Having spent a bit too much time browsing wheels previously, I knew that a set of RC4WD Raceline Octanes would be perfect. I know nothing of the Raceline brand, but it's a great looking wheel and as a bonus they come with a scale wheel nut cover, making them really good value. I mean, center hubs alone can cost you close twenty bucks for a pair. The 8 spoke pattern is not only beautiful in itself, it's also a perfect match for a good looking set of brake rotors from SamixRC.  Tires, wheels, center hubs and brake rotors all coming together perfectly not only when standing still, but also at speed: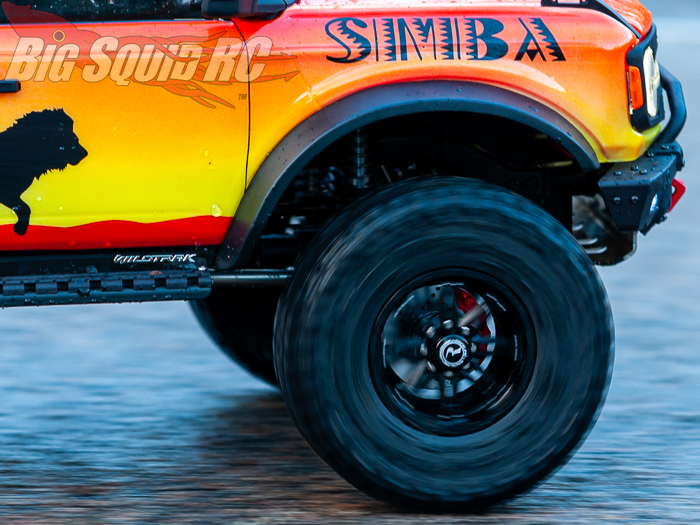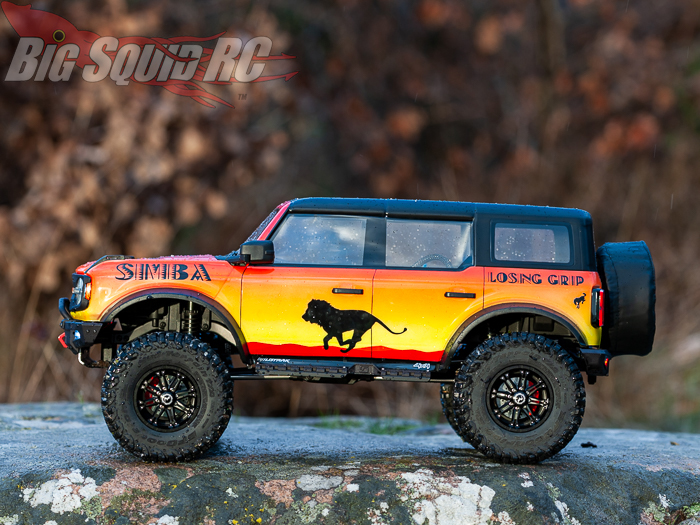 I would have bought this combo myself, but took a chance and asked Brian to poke RC4WD for me. A couple of days later, they were on their way. Thanks a lot for the support, most appreciated! The money not spent on wheels were instead spent on some bits and bobs including a Mini Warn winch to go on my SCX10III.
Anyway, the wheels have arrived and actually look even better in real life than on pictures. Are they a work of art? No, they are miniature copies of a real thing, not art. But, dang! Very, very impressive workmanship! Fit and finish is absolutely perfect. It's very close to a perfect replica of the real thing. Easily the best looking wheel and tire combination possible for a 1.9″ rig. Hats off to RC4WD and their immaculate CNC-engineering!
The wheels come with a small scale hex bolt tool to use on the M2 scale hex screws that attach the center cap. To be honest I didn't use it since I already had a dedicated tool for the job, but if you don't you'll be happy it's included. While this is not a review as such, a couple of words on mounting the tires are still in order. Not a problem. Could I wish, I would have had 3×10 mm screws on the back ring rather than 3×8 mm, since that would have made mounting a tad easier, but no big deal. Also, be careful with the M2 screws, while not minuscule they are still small enough to be difficult to find if they bounce away too far on a dirty floor or thick rug.
What matters most is of course how the story ends, and in this case, it's a happy one. The best looking tires on a beautiful set of wheels that match them perfectly. Sometimes choices are difficult, this one was certainly not.
To read another column, hit the link!