Losing grip – the servo future is here
In late June, Yokomo released a new steering servo, the SP-03D, and it might be the most interesting release in RC drift for a quite some time. For a starter, it looks trick and Hayato Yoshinami used it when he won the 2019 World Drift Championships. If you spend most of your time crawling or bashing, the specs won't look like much to you, with a torque of 220 oz-in at 6.0V (16.0kg-cm). But the thing is, it is programmable, and just a couple of days ago Yokomo released the SP03-DPC Program Card that works the magic.
Listen to that: a programmable servo. Yes, I know that programmable servos do exist already, but it's not really a big thing. They might offer center and end point adjustment, but since that's easily adjusted from the receiver, it doesn't really add that much. It might be a good thing to be able to change dead band width and failsafe settings. And while it is neat to be able to change direction of rotation, that can also be done via a servo reverser cable. In short, programmable servos has until now offered some basic settings, but nothing that changes the driving experience.
Until now. What Yokomo is putting on the table is very exciting. The SP-03D servo itself is clever to start, with a hunting suppression function that should let you run your gyro at a higher gain (more on gyros and gain in another column…). But then the program card takes it to another level. As expected from a programmable servo, this little gizmo will let you adjust neutral width and servo direction. In addition, and this is really, really cool, you can also adjust steering speed and torque, servo holding force (which will affect front grip) and hunting suppression value. These three are things that truly will affect how the car drives, and will let you change settings to suit the specific conditions of different tracks and surfaces.
If ever there was a new servo hotness, this is it. Awesome looks, great specs, and an entirely new set of adjustments options. Although it will set you back 170 bucks, I think it's rather safe to say that this servo will be hugely popular among serious drifters. It's the future, mate! Check it out: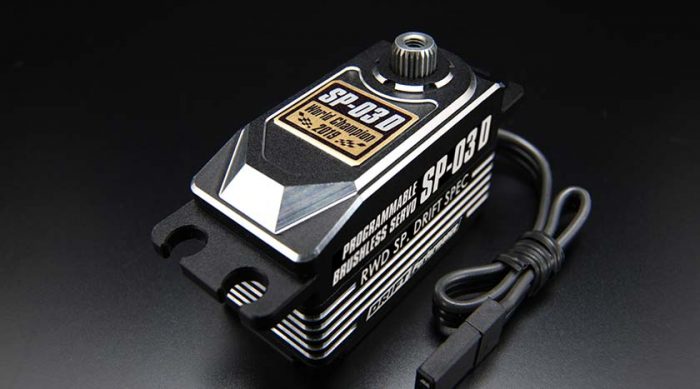 Speaking of mates, what's your take on this, Cubby? Will we be seeing similar programmable servos released for the off-road disciplines as well? Or do you think this will be a drift specific thing?
Yokomo, if you're reading this (and you should!), do not hesitate to send me a shiny servo and a shiny kit (YD-2SXII, or YD-2RR, please), to let me take a deeper look into it. While I await the mailman, I'll go out drifting my beloved MST RMX 2.0. The carnival in the park is over, so I should be able to find some room to go sideways.
Now, why don't you check out the SP-03D servo and program card on Yokomo's homepage, or read another drift column here? Or, even better, grab your car and transmitter and go lose that grip!