Losing grip – Trail running
The summer isn't over yet, but enough of it has passed for me to label it as a good one. I have done a fair bit of trail running with my SCX10III, and although not quite as long walks as I had hoped, certainly enough to be happy about it and to properly evaluate some of the work I've put into it lately.
First, the new paint job. I am still happy with it. It gave me all the pop and visibility I wanted from it, while not being over the top. Even while very small in a picture, it's still visible. Just what a writer, photographer and RC nerd needs. Here's my daughter, a few of miles into a trail run, a thousand feet of altitude gained, and yet only started.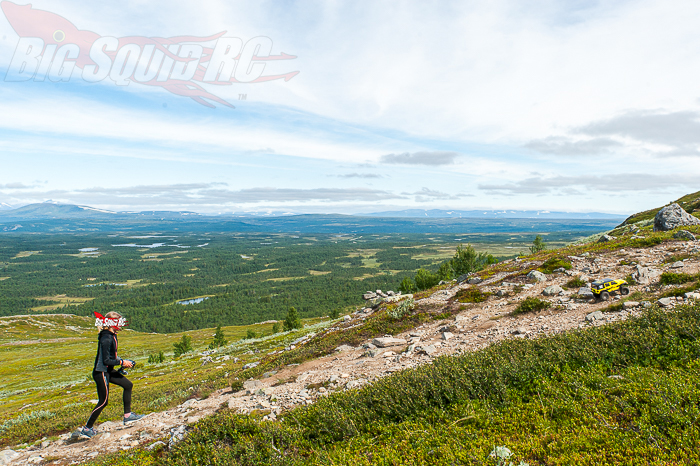 Further up the mountain, new driver, same car.
Second, the minor fix of changing pinion to one with a 3.17 mm hole, rather than the one I had with a 5mm hole and a reducer sleeve. I did this since I have had recurrent problems with the pinion coming loose, and it takes a lot longer to get everything to line up correctly with a reducer sleeve in the mix. On the trails, the pinion did come loose twice, but took no more than five minutes to fix, allowing me and my daughter to then quickly catch up with the rest of the family who continued walking. However, due to available gears changing pinion hole size, also meant I had to go from an 11T pinion to a 12T. A small change, but the motor ran too hot on a couple of occasions, and I haven't had this problem before. Of course, longer run times than usual (hours), and warm weather contributed to this, but nonetheless I have bought a 11T pinion with the proper hole size. It's not as if I lack for speed anyway, so no reason not to gear down.
Third, I have finally put the dig function into good use! Back home I have never really needed it, but this summer saw some truly challenging terrain, where the dig made that little bit of difference needed. Dig, and the extra weight down low I have added with brass portals and such. On the longer trail runs, the dig made no real difference though, whereas the extra weight down low always is a good thing. Well, except for motor temperatures. Whenever things got too challenging on longer runs, we simply carried the car a couple of feet, not having the time needed to tackle gnarly crawling problems.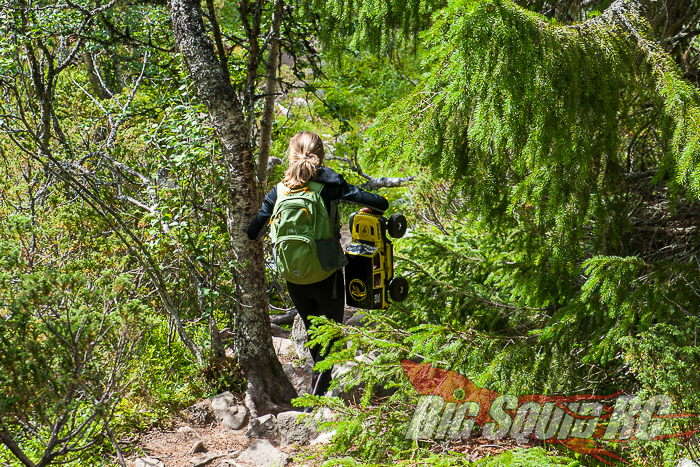 Fourth, as much as I had foreseen some problems and made precautions, unexpected issues raised. But how fun would the hobby be if nothing unexpected ever happened. The front drive shaft of my SCX10III popped loose on several occasions, either on gnarly terrain sections, or (I think) due to young drivers with jerky throttle and reverse control. Still very weird, since it just about shouldn't be possible. Hence no reason feeling stupid for not anticipating the problem. Fixing it is a small thing, but since the actual part is very small, it can take quite a long time finding it once it has dropped off. Very annoying, and only a matter of time before it comes loose and I can't find it again. Therefore, a front drive shaft from SSD is on it's way.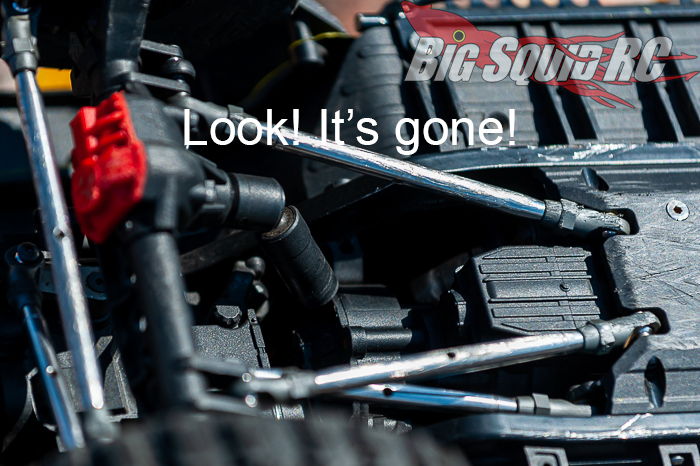 Fifth, driving a 1.9″ crawler is rather different from a 2.2″ rock bouncer. More relaxing, less speed, less roll overs, less damage. In other words: putting effort and resources into adding cosmetic upgrades to a 1.9″ crawler seems a lot more worthwhile than doing it to an Axial Bomber. I will take this into account over the coming months, Viper might not be done yet, and project Simba is just about to start. More about that one shortly.
To read another column, hit the link!