Losing grip – wrapped up
A week ago, just about everytning I own was in boxes and bags, neatly stuffed away in the attic. A couple of days later, just about everything I own was all over the place, in a humongous mess that I had to wade through to get into the kitchen. Today, things are a bit more organized, and I can see the floor again. Sadly, all my RC cars are still boxed away, wrapped in plastic and in various stages of dissassembly. As you can see in the picture above, that car ain't going nowhere just yet. Which doesn't really matter much, weather being what it is. Cold, grey, rainy. Not even the most hard core crawler would be out driving, let alone drifting.
What to do? First, getting upset over MST's pricing model. Second, delve deeper into airbrushing.
Regarding the first bit, I had another look into it, and the cost of getting an RMX 2.0S up to the standards of a Yokomo YD2-SX II is roughly 550 bucks. I imagine it's about the same cost as upgrading a basic YD2-S to SX II status, so not much to complain about on that point. But it reinforces the fact that the YD2-SX II (or EX II for that matter) represents very good value, and that MST really should have something in the same price bracket. Just over half a grand for a kit is painful, but doable for many. A full grand (for their KMW) is just too much.
Well, enough, I'm going in circles. Am I perhaps about to develop a pet hate? Remains to be seen; if you find me whinging on the issue once more in the coming month, I suppose it would be fair to diagnose me with a pet hate. I'll try to stay away from it.
 As far as point number two goes, I'm getting there. I have a nice and (still) very shiny Iwata Eclipse HP-CS airbrush, some bits and bobs to go with it, and a compressor is on its way. Why this particular airbrush? Spend some time on the internet, and you'll find that a lot of people swear by this one, and a lot swear by the Badger Patriot 105. Price is reasonable, and both have all the features I will ever need. In the end, I found a good deal on the Eclipse, so picked that one rather than the Badger. Besides, Badger is a weird name for an airbrush, whereas Anest Iwata is a weird name for just about anything; one up for Iwata on that one.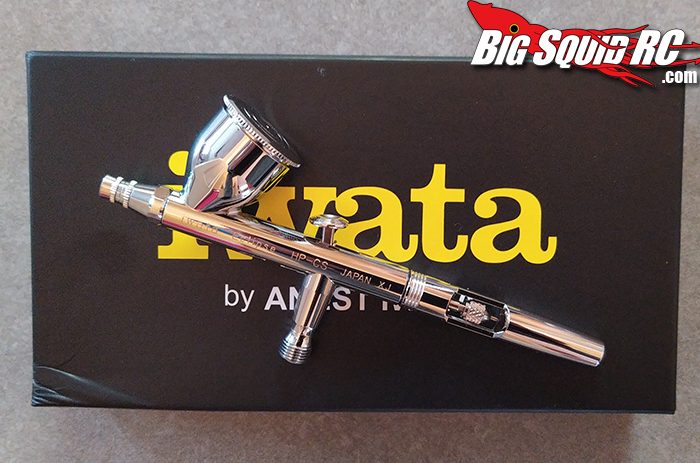 Chosing a compressor came down to price and noise. I picked a Panzag AS186A, which I am fairly certain is a Chinese piece of equipment, sold under numerous different brand names. KMS, Panzag, SwitZer to name a few. Single piston, oil free, no nonsense, do the job kind of thing. A lot of people seem to be happy with it, and it runs very quietly (47dB it says, like a refrigerator), so it should suit me just fine.
In order not to die a slow and agonizing death from the atomized paint, I intend to buy a couple of computer fans and build a simple spray booth. Shouldn't be too hard, and a lot cheaper than buying one.
That's what will keep me busy during the winter. Not so much driving, as painting. It's a wonderfully diverse hobby, isn't it?
Hit the link to read another Losing Grip column, which will probably be more drift specific than this one…