Lots of New Venom Batteries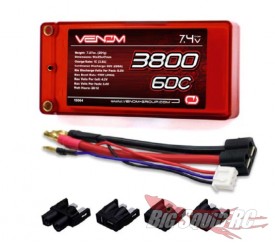 Venom Group has a ton of new batteries headed our way! All will be avaliable in mid July and come with Venom's lifetime battery replacement plan.
First up is a 7.2V 3000mAh NiMH pack that is perfect for your Roto-Start, EZ Start, or just to run in your vehicle. This pack comes pre-wired with a Tamiya connector.
Next up is a TON of new lipo packs!
– 3S 7500mAh 30C soft case
– 2S 3300mAh, 4100mAh, 5000mAh 25C hard case
– 3S 3200mAh 30C hard case
– 4S 3500mAh 40C hard case
– 2S 4000mAh, 5000mAh 40C hard case
– 2S 5000mAh 50C hard case
– 3S 5000mAh 50C soft case
– 2S 3800mAh 60C short hard case
– 2S 5300mAh, 5800mAh 70C hard case
– 4S 5300mAh 70C hard case
All lipo packs come with 12AWG wire leads and Venom's universal plug system. Jump over to the Venom Group website for more pics and specifics!