LRP's ZR.30 X Competition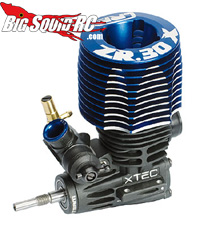 For the racers out there reading beware, if you don't have this in your stable yet you might be interested in picking it up soon! LRP has outdone themselves again. Max rated power at 4.21hp with a max RPM of 38,300! Sitting on top of their massive all new XTEC T6 crankcase is the all new CoolDown cylinder head with extra-thin ribs to reduce the weight. Their drawing boards brought out a completely new XTEC thermal protected Powercarb 2 to let the fuel flow.
Stop by LRP's site or check out your local shop sometime in March 2009 and set your truggy on top!