Mancari's Swap Meet Event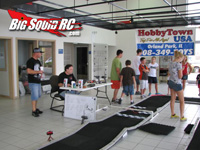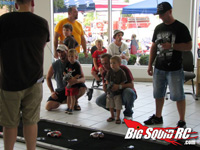 The focus is on the car.
The drivers' line is silent.
Thirty seconds to go and … FINISH!
The young racer asks, "How many laps did I do?"
It's clear: another enthusiast is born!
Sunday, August 29th, Hobby Town Orland Park invited the Chicago Mini RC Club out to the 9th annual Mopar/AMC Show and Shine to do demo of the new Losi 1/24th scale Short Course Truck (SCT) and Rally car. We've recently posted our unboxing of the SCT and Rally and the next step for a proper review was a day of bashing/racing in the hands of the target demographic, newbies, kids, and their parents (wallets). With the fleet of vehicles fresh in hand Friday night, I invited Craig from I-lap R/C lap timing systems over to my place for some PCB diagnostics. After some banter regarding Losi's decision to include a 27mhz setup vs 2.4ghz, Craig was able to locate a regulated 3 volt circuit connected to the switch of the PCB. Following a successful test, the first harness was in. The transponder lit right up and our initial tests showed that even with just 3 volts, we were getting registered laps with the bridge sensor as far as 3 ft above the car (and this was with no holes drilled in the body for the transponder IR emitter). The game plan was coming along nicely. New trucks in the hands of new drivers running timed races. In the words of my 10 Y.O. at heart, "COOOOOL!"
When we arrived at the Show and Shine, which was being held at an empty car dealership, we had a choice to use the indoor showroom (wide open space with power outlets, but no air conditioning and no breeze), or use part of the parking lot. I'm not the biggest fan of being under the sun from 12-3pm while running around marshaling cars driven by new drivers (my quadriceps are KILLING me). We decided we'd setup in the showroom . The new Losi Tracks aren't released yet, so we setup the club's RCP tracks. Again I tapped my inner 10 Y.O. and began looking for boxes to make ramps for the track. The corner markers Losi includes made for some nice little bumps in track too. On Craig's advice we also made the track wider to accommodate a center area for inner marshaling. The white board is up announcing the race start time. Will a crowd form?
About 0.15 seconds into our start time, we had a nice line of Losi's target demographic. Eighty percent of our participants were in the 6-12 Y.O. range with a couple of teenagers and adults in the mix. My favorite Kodak moment was when three younger boys were lined up at the track with their fathers crouched behind them assisting with the controls. I STILL have this memory of my father and I – and I hope those kids get to tuck that memory away with their fathers as well. My second favorite was the quantity of girls lined up eager to try out the races. I was particularly happy with one little girl's response when I was demo-ing the controls "I know how this works, I have a BIG monster truck at home." *Grins*.
So how did the vehicles perform? We were running 2 minutes races with 3 SCTs or 3 Rallys at a time. We got about 6-7 races out of each battery pack. In the end, each car went through 14-15 races for the day. We had to take a break after the first fleet of battery packs as I didn't have any more than what came with the kits. The white board went back up to announce the next set of races and time for us to grab some snacks (Whoever organized the Show and Shine with free drinks, burgers, and dogs… THANK YOU!). After returning from a bash session break (I missed Bill's Baja 5t backflip!), we decided to do a quick race with Steve from Hobby Town, myself, and Craig from I-lap. I took the lead by 3 laps with what Bill described as the home track advantage (literally, it's my club's track I brought from home). I popped in a lipo from my Micro-t for a little speed testing and drifting. We didn't have the speed gun on us but I got all the feedback I need. A room full of kids yelling "WOW!" as they watched this little lipo-powered SCT fly. Our upcoming review we'll put a number to that "Wow!". Losi is estimating about 20 mph on Lipo and 15mph on the included nimh. After all of this, AND the second session of racing, NOTHING BROKE! Let me repeat that. Tons of new, young, R/C drivers being handed the controls to do their best to get around a track in 2 minutes with no practice – and NOTHING broke.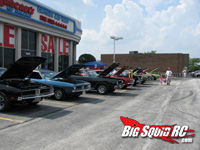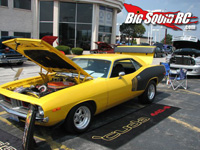 So what about the spirit of the event? The goal was to get R/C into the hands of those that haven't tried it before. Mission Accomplished! It was nice to see the kids coming back to try to improve on their times. During the second phase of racing, the end-of-the-race question went from "Who came in first?" to "How many laps did I do?". The answer? 14 laps, just as much as the adults. Good job dude! Now let's see you bring your game to our next club meeting 🙂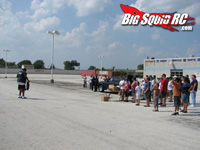 Special thanks to Steve from Orland Park Hobby Town for inviting us to the event. Thanks to Bill and Brian from Big Squid R/C for helping with marshaling and grabbing some footage from the event. And finally, a BIG THANKS to Craig from I-Lap for providing the transponders, timing equipment, laptop, race management, and manpower for setup and tear down. It's nice to see long time R/C fans chipping in their time to spread the joy of this hobby. Thanks again!