March Bash-ness 2012! As it stands right now.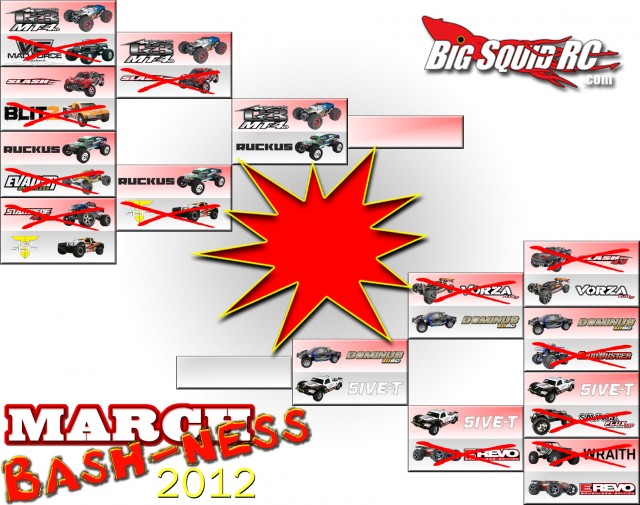 Click to embiggen
We decided to have a short break before moving on to the 3rd round of voting. This next one is going to be big. Losi's 5IVE-T is going up against the newest company in the bracket, Helion, and their Dominus 10SC. ThunderTiger's MT4-G3 will be taking on the ECX Ruckus. We all have our favorites in the office, and we all think we know how it's going to go down. But none of us want to make any wagers. To say that this has been a surprising March Bash-ness would be the understatement of the year, and it's only March. Two of the biggest bashing powerhouses, Traxxas and HPI Racing, were both booted out of the bracket after only two rounds by new companies. Only one of the companies that are represented in this final four this year, Losi, was even in the bracket last year. None of us would have guessed that. None of us would have even guessed that Losi would make it out of the second round where the 5IVE-T faced the Traxxas E-Revo Brushless Edition. Personally, I think we're in the Bizarro World and everything is the opposite of what it should be.
The next round of voting will start soon, so keep an eye on the front page for more.