March Bash-ness 2012! Final Showdown and Giveaway Entry – UPDATE

Click to embiggen
[Update: Voting and giveaway entry have closed. Check back on Tuesday morning for the official crowning of the 2012 March Bash-ness Champion! And come back in the evening to find out who our giveaway winners are!]
So this is it, the final showdown, the last dance, the umm… ending poll. One gets crowned March Bash-Ness Champion 2012, the other goes home. The MT4-G3 dominated it's side of the bracket, most polls weren't even close. The Dominus 10SC battled it's way through, winning many hard-fought votes, usually just barely. Nobody ever thought that the Dominus would make it past the first round, much less all the way to the final. But it's here. And now you all get to decide which one wins and which one goes home.
Lets talk about giveaways, shall we? If you were around for March Bash-ness last year, you know that we ended up giving away a HPI Savage Flux 2350, after the Flux HP was crowned the victor. This time around, we're giving away TWO trucks! That's right, both trucks that made it to the final are now up for grabs. One ThunderTiger MT4-G3 and one Helion Dominus 10SC. All you have to do is vote and leave a comment below and you'll be entered. There are some official rules though, so make sure you read them to make sure you qualify.
So, on that bombshell, let's get on with the voting. If you're on the home page, click the Read More button to see the poll, otherwise just scroll on down.
* UPDATE: Polls now working again.. get voting!

Voting ends Monday, April 2nd 2012 at Midnight cst. We will announce the winner of the drawings the evening of April 3rd.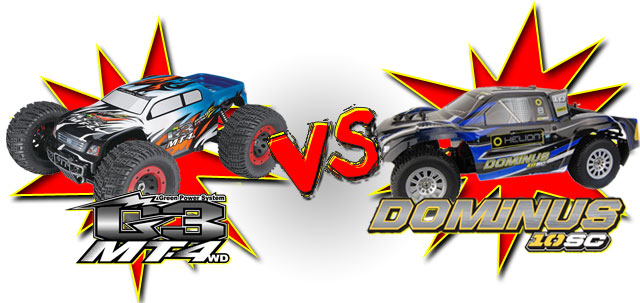 ThunderTiger MT4-G3 vs Helion Dominus 10SC
Dominus 10SC (61%, 538 Votes)
MT4-G3 (39%, 341 Votes)
Total Voters: 877

Loading ...
---
Official rules: You must be 13 years of age or older to enter, or have your parent or legal guardian enter for you. This contest is open to US and Canadian residents that live in jurisdictions that allow such giveaways. If you live in a place that does not allow giveaways like this and you enter and win, we don't want any trouble, so be aware of any local laws prohibiting you from participating. A valid email address IS REQUIRED. One entry per HOUSEHOLD. If you attempt to enter multiple times using different email addresses (yes, we can tell) you will be disqualified from this and potential future Big Squid RC giveaways, so don't do it. Any trollish behaviour in the comments will also be grounds for disqualification, so keep the comments civil, no flame wars. Drawings are done by a random number generator choosing 2 comment entries from the database. Winners will be notified by email, so make sure that email is valid! Which truck goes to which winner is also done by random computer choice. Help spread the word and support the contest! Make sure to hit the LIKE button on Facebook, and re-tweet or g+ . Good Luck!