March Bash-ness 2012! Final Showdown is set.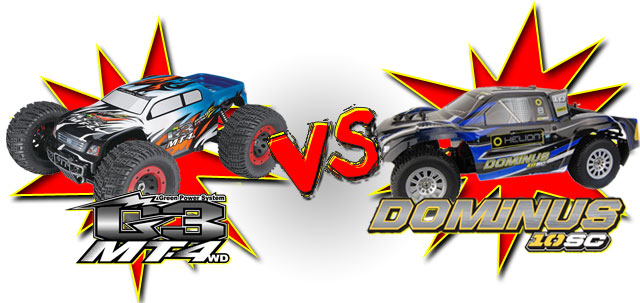 Once again we have carefully combed through the vote logs to determine which two trucks will be meeting up in the final round of March Bash-ness 2012. It was pretty obvious that there were a small number of people that were intent on getting their favorite vehicle into the final showdown. But their efforts didn't pay off and, after accounting for the bad votes we have determined that the final results of both polls still stand. The ThunderTiger MT4-G3 ended up handily beating the Ruckus after it was all over and our Cinderella story of March Bash-ness, the Helion Dominus 10SC ended up walking into the big ball after edging out the Losi 5IVE-T.
So those are your contenders for the Final Showdown of March Bash-ness 2012. We will be opening up voting for this last round in the morning. And you know what that means, giveaway time. The comments will be open on the poll post, leave a comment and you'll be entered. The full rules will be posted, so be sure to give them a read.