March Bash-ness 2012! – Round 1, part 1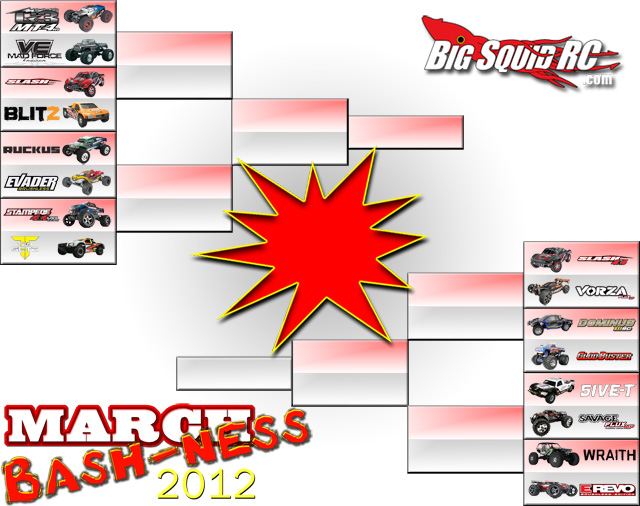 [Update: The polls have closed on this first part of round one. Thanks everybody for voting. Look for part two to be posted in the morning and start the vote for part two of round one.]
[Update: Sorry all. First day glitches are all sorted out now. Polls are now open.]
Here they are, the top 16 most nominated vehicles up for the title of Ultimate Basher 2012.  There are a bunch of heavy weight contenders in the bracket this year.  Only seven of them are making return appearances from last year's dance. In no particular order the contestants are:
From HPI Racing: Vorza Flux HP, Blitz and 2011's Ultimate Basher, the Savage Flux HP, trying for a back-to-back title.
From Traxxas: Slash 2wd, ERevo Brushless Edition, Stampede 4×4 and last year's runner-up, the Slash 4×4.
From Losi: TEN-SCTE and 5IVE-T
The Rest: ECX Ruckus, Kyosho Mad Force Kruiser VE, Duratrax Evader Brushless, Helion Dominus 10SC, Tamiya Clod Buster, Axial Wraith, ThunderTiger MT4-G3.
The ThunderTiger MT4-G3 was the truck that received the most nominations this year. It received over a third of all nominations made.  It is clearly the favorite going into this competition. Compare that with the total nominations for last year's Ultimate Basher, the Savage Flux HP and it's sibling the Savage Flux 2350, which only received a combined 12% of nominations this year. But Traxxas and HPI are both well represented in this fight and knowing them, they are lining up their armies and prepping them for battle as we speak. It's probably not a good idea to dismiss some of the underdogs either. You never know how these things will play out.
This first round of elimination will be split into two parts. Part one starts today with voting on the left side of the bracket happening for the next two days. Polls will close Tuesday night at 11:59pm CDT. Part two, the right side of the bracket, will open Wednesday morning. So without further delay, get to voting.  If you're on the home page click the Read More button to vote, if not just scroll down to get your vote on.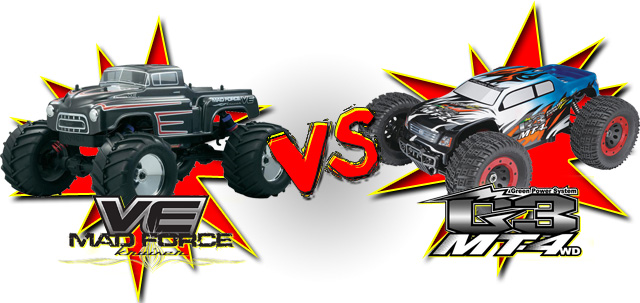 ThunderTiger MT4-G3 vs Kyosho Mad Force Kruiser VE
ThunderTiger MT4-G3 (57%, 296 Votes)
Kyosho Mad Force Kruiser VE (43%, 222 Votes)
Total Voters: 518

Loading ...
Traxxas Slash 2wd vs HPI Racing Blitz
Slash 2wd (64%, 352 Votes)
Blitz (36%, 201 Votes)
Total Voters: 553

Loading ...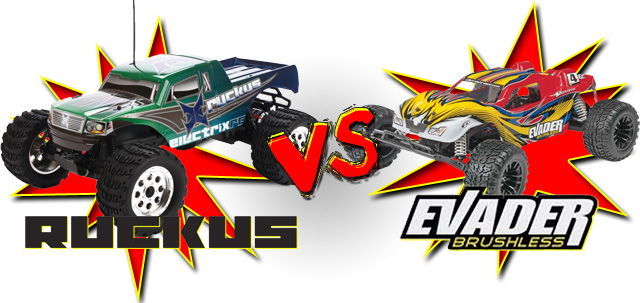 ECX Ruckus vs DuraTrax Evader Brushless
Ruckus (56%, 362 Votes)
Evader Brushless (44%, 287 Votes)
Total Voters: 649

Loading ...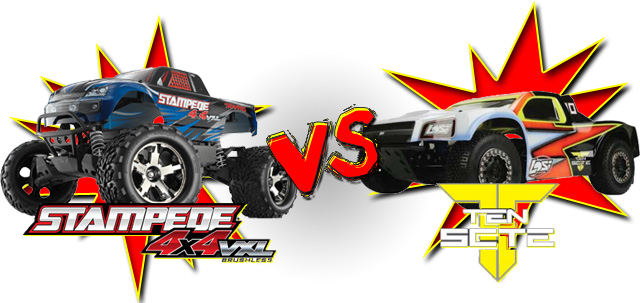 Traxxas Stampede 4x4 vs Losi TEN-SCTE
TEN-SCTE (56%, 390 Votes)
Stampede 4x4 (44%, 311 Votes)
Total Voters: 701

Loading ...