March Bash-ness 2012! Round 2, 1st quarter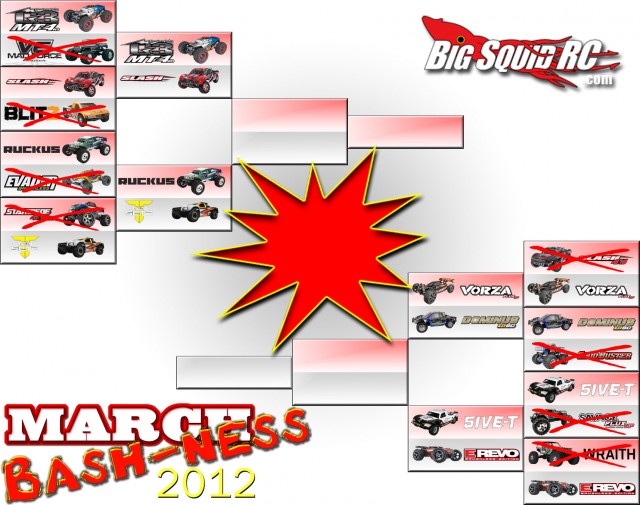 Click to embiggin
[Update: This poll has closed, check back on the front page tomorrow for the next chance to vote!]
Eight have gone home, eight are left standing. We're on to round two of March Bash-ness. In the last vote, the reigning champ and last year's runner up both were kicked to the curb in surprising results. HPI's Vorza Flux HP battled back and forth with the Slash 4×4 until the Vorza finally earned a comfortable lead in the last hours, sending last year's runner up home in the first round. The Dominus 10SC trailed the grandfather of R/C monster trucks, the Clod Buster, during most of the polling period, only taking the lead towards the end and coming away with a narrow victory. The reigning Ultimate Basher, the Savage Flux HP, got bounced out of the tourney in an unceremonious fashion, losing to Losi's big dog, the 5ive-T, in an equally big way. And the final matchup saw the E-Revo Brushless Edition trounce Axial's rock racer.
To say that the first round was surprising would be understating it. There were some downright shocking results there. But now it's over, and we're on to round two! This round will be split into quarters with the first quarter being dedicated to the ThunderTiger MT4-G3 vs the Traxxas Slash 2wd. Will the new monster (and Big Squid's basher of the year for 2011) beat the old short course truck that started arguably the biggest and greatest trend in RC? This poll will close at 11:59 pm CDT on Saturday the 17th.  Click the Read More button to see the poll if you're on the home page, otherwise just scroll down to get your vote on.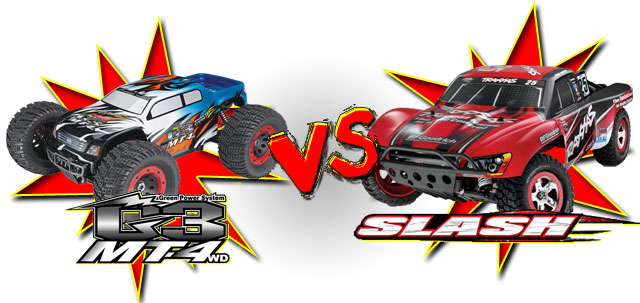 ThunderTiger MT4-G3 vs Traxxas Slash 2wd
ThunderTiger MT4-G3 (70%, 168 Votes)
Slash 2wd (30%, 73 Votes)
Total Voters: 241

Loading ...