March Bash-ness 2012! Round 2, 3rd quarter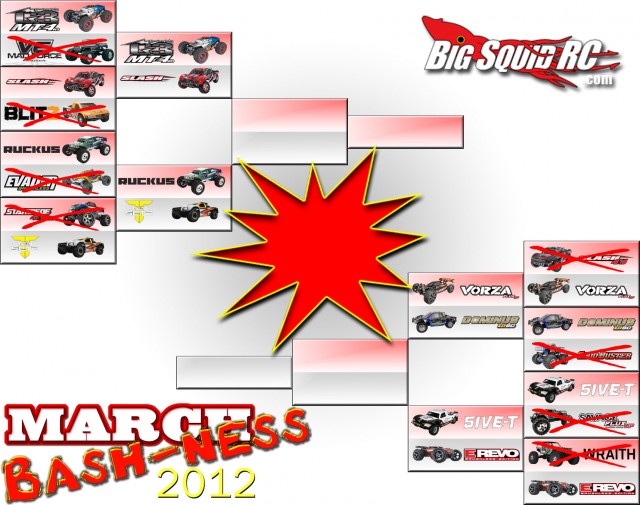 Click to embiggen
[Update: This poll has now been closed. Due to the closeness of the final score we are going to be double checking the vote to make sure there were no shenanigans, before we declare a winner. But that's not going to stop us from going on to the next vote. Check back on the front page tomorrow for the final vote of round 2!]
The ECX Ruckus just barely edged out the Losi TEN-SCTE. Considering that both trucks are incredibly durable and great performers, it's hard to say what the tipping point for the Ruckus was, but that's not important. The Ruckus will be meeting the ThunderTiger MT4-G3 in final four. It's got a big fight ahead of it.
HPI's Vorza Flux HP is, by all accounts, a beast. Helion's Dominus 10SC, by all other accounts, is as durable as they come, and it can be race as well as any other short course truck on the market. Which one will move on in the bracket? Which one will go home? That's completely up to you, so click the Read More button to see the poll if you're on the front page, or just scroll down and click away.  This poll will close at 11:59 pm CDT on the 21st.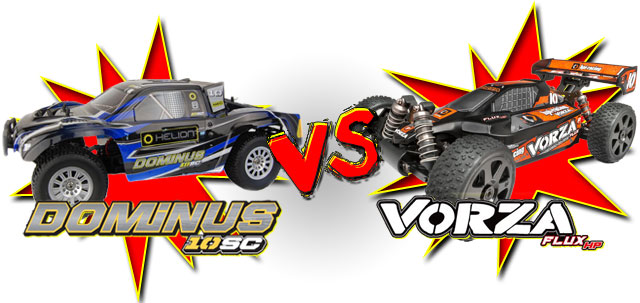 HPI Racing Vorza Flux HP vs Helion Dominus 10SC
Dominus 10SC (51%, 327 Votes)
Vorza Flux HP (49%, 313 Votes)
Total Voters: 639

Loading ...