March Bash-ness 2013 – Choose the Sweet 16!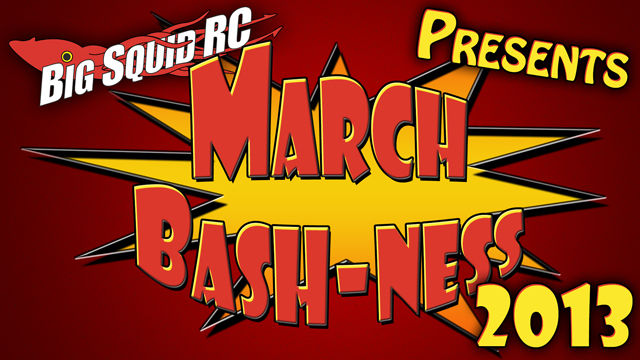 That's right, it's March! And that can only mean one thing! It's time for Big Squid RC's March Bash-Ness!! The only place where the reader votes ACTUALLY count! The winner is chosen after several weeks of voting, and at the end, we give away the winning vehicle!
Before the voting can start, we need to get your nominations for the 16 vehicles that make it into the bracket! You can do that by leaving a comment below, or posting your thought over on our Facebook Page.
The comment section is open and ready for your thoughts, so go ahead and make a few nominations of your own. After a week, we'll collect the 16 most nominated vehicles and start the bracket. Just a note, your nomination can be any r/c vehicle from any time period, it doesn't have to be recently released, and you can nominate as many vehicles as you wish. If you're not sure where to start, check out our reviews section.
Lets see how many people have read this far down in the post. IF you go over to our Facebook Page and like and share the nomination post there, AND we get at least 50 shares, we will give away a Axial EXO just to help get things rolling!! We will choose at random, one of the people that LIKED or SHARED the post as the winner! We will announce the winner after we close the nominations.
Want to see how the voting went down in previous years? Check out the March Bashness Category!
Ok, what are you waiting for? Leave a comment, and go SHARE this post for a chance to win!
note: no flame wars please.