March Bash-ness 2013! Round 1… Fight!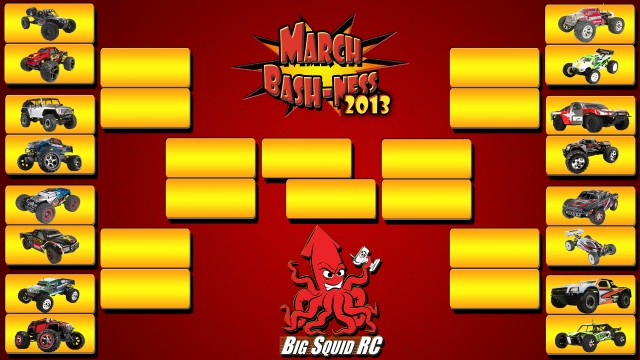 Click to embiggen
This is it. The first round of voting for March Bash-ness 2013 is open. All eight match-ups are here, so make sure you pick a favorite in each one. Voting will close on this first round on Friday, the 22nd at 11:59 pm Central time.
There's a few new faces in the bunch this year, the Vaterra Twin Hammers was one of the most nominated trucks this time around. Will it fend off some old stalwarts like the HPI Savage Flux HP or Traxxas Slash 4×4? That's completely up to all of you. The newb friendly and highly durable ECX Ruckus and Torment are in the running again this year, but curiously missing is last year's champion, the Helion Dominus 10SC, replaced by it's newer sibling, the Dominus 10TR truggy. And it wouldn't be a March Bash-ness without a Thunder Tiger MT4-G3 to spice up the pot. The entire bracket is filled with awesome bash machines. But which one is the best of all? You tell us.
Vaterra Twin Hammers vs. HPI Bullet Flux MT
Twin Hammers (67%, 650 Votes)
Bullet Flux MT (33%, 325 Votes)
Total Voters: 975

Loading ...

Axial Jeep Wrangler Unlimited Rubicon vs. Traxxas Stampede 4x4
Jeep Wrangler (53%, 516 Votes)
Stampede 4x4 (47%, 449 Votes)
Total Voters: 965

Loading ...

Thunder Tiger MT4-G3 vs. Atomik Metal Mulisha Brian Deegan 1:8 Ford Raptor 150
MT4-G3 (59%, 547 Votes)
Brian Deegan Ford Raptor (41%, 382 Votes)
Total Voters: 929

Loading ...

ECX Ruckus vs. Traxxas Summit
Summit (82%, 781 Votes)
Ruckus (18%, 172 Votes)
Total Voters: 953

Loading ...

Arrma Granite vs. Helion Dominus 10TR
Granite (51%, 506 Votes)
Dominus 10TR (49%, 485 Votes)
Total Voters: 991

Loading ...

ECX Torment vs. HPI Savage Flux HP
Savage Flux (79%, 754 Votes)
Torment (21%, 198 Votes)
Total Voters: 952

Loading ...

Traxxas Slash 4x4 vs. Duratrax DXR8-E
Slash 4x4 (72%, 681 Votes)
DXR8-E (28%, 267 Votes)
Total Voters: 948

Loading ...

Axial EXO vs. Team Losi TEN-SCTE
EXO (52%, 498 Votes)
TEN-SCTE (48%, 461 Votes)
Total Voters: 959

Loading ...