March Bash-ness 2013 – Round 2 – Part 1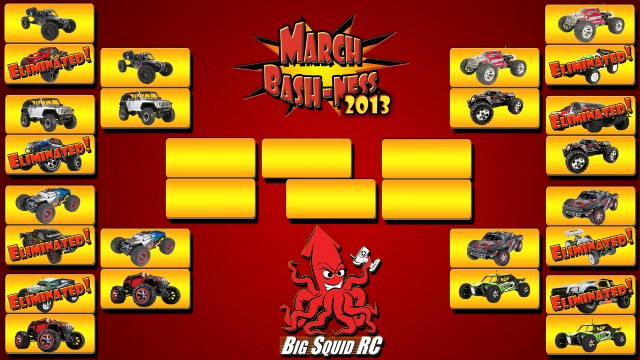 Click to embiggen
The first round of March Bash-ness 2013 is over and half the field is heading home with tears in their eyes. We can't really say that there's any surprises here as the elite of bashing are winnowed down to eight. The MT4-G3, last year's runner up advanced and will be facing Traxxas' crawler/monster truck hybrid thing, the Summit. The Slash 4×4 had a VERY strong showing against the Duratrax DXR8-E buggy and will be going up against Axial's awesome EXO buggy, which just barely edged out the Losi TEN-SCTE. Who among us didn't expect the Savage Flux HP to move on, really? The Granite will have the fight of it's life on it's hands as the two meet in this round. And finally we have crawler vs. crawler. Vaterra's IFS rock buggy the Twin Hammers vs. Axial's Trail Rated™ Jeep Wrangler Unlimited Rubicon. Expect that one to be too close to call until the closing moments.
Voting for Round 2 will be done in two parts, the first part will pair up the left side of the bracket, it will run until Monday, the 25th, at 11:59 pm Central time.  Part two, the right side, will commence the next day, Tuesday, the 26th.
What's all this leading up to you ask? Besides having you, the people who truly matter in this hobby, crown the greatest basher of all, maybe, just maybe, we'll be giving something away to one, or possibly more, of you. Stay tuned and keep voting.

Vaterra Twin Hammers vs. Axial Jeep Wrangler Unlimited Rubicon
Twin Hammers (59%, 478 Votes)
Jeep Wrangler (41%, 329 Votes)
Total Voters: 807

Loading ...

Thunder Tiger MT4-G3 vs. Traxxas Summit
Summit (60%, 484 Votes)
MT4-G3 (40%, 326 Votes)
Total Voters: 810

Loading ...