March Bash-ness 2013 – Round 2 – Part 2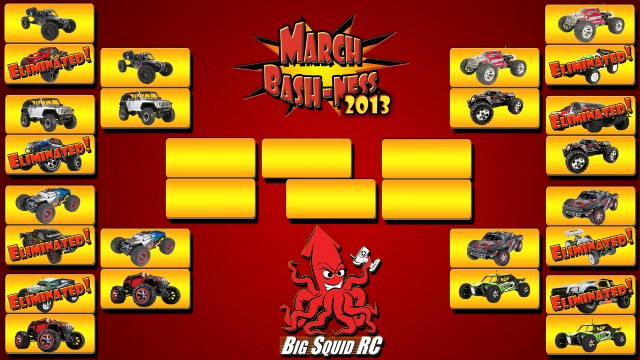 Round 2 of March Bash-ness 2013 continues now with the right side of the bracket. Sparring in this round are the small dog in the fight and one of the biggest. Arrma's small in stature, but big in heart Granite is going straight up against, what is arguably, the granddaddy of bashing, the HPI Savage Flux HP. The other matchup features Traxxas' insanely popular Slash 4×4 going up against Axial's answer to everybody's desire for a scale buggy, the EXO. Both four wheel drive, both very durable, both ready for extreme bashing sessions.
Voting for Round 2 will be done in two parts, the first part is over. Part two is now, voting will close on Thursday, the 28th, at 11:59 pm Central time. Get your vote on now.

Arrma Granite vs. HPI Savage Flux HP
Savage Flux (73%, 505 Votes)
Granite (27%, 188 Votes)
Total Voters: 693

Loading ...

Traxxas Slash 4x4 vs. Axial EXO
Slash 4x4 (62%, 437 Votes)
EXO (38%, 272 Votes)
Total Voters: 709

Loading ...