March Bash-ness 2014 – Final Fight!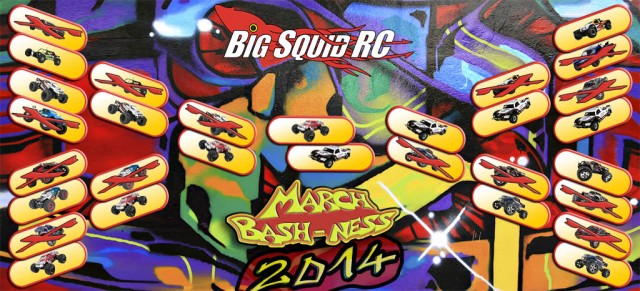 [Update: This poll, and March Bash-ness 2014, is over. Check back soon for the crowning of the March Bash-ness 2014 Champion!]
And here we are. The final round of March Bash-ness 2014! This year's polling saw some big surprises. Traxxas didn't make the final round, despite being the most nominated company. Some of the top favorites were knocked out early on. And two trucks that most people didn't expect to make it are now facing off. This year has kept all of us guessing.
We had some polling shenanigans in Round 3. After reviewing all the votes, the outcome remained the same. Arrma Granite BLX took out the Vaterra Halix and the Losi 5ive-T barely eeked out a victory over the Traxxas Stampede 4×4.
So the past is passed and we're dealing with the now. That means Arrma's little truck that could, the Granite BLX is taking on Losi's mega-huge 5ive-T. One is a two wheel drive, 1/10 scale monster truck, the other is a four wheel drive, 1/5 scale short course truck. One costs $380, the other $1,600. Both are durable, fast, and fun. But which one is worthy of the title March Bash-ness Champion? You tell us.
This poll will run until 11:59 pm CDT, April 8th. Due to last rounds shenanigans, we have increased security on this final poll. If there are any issues, please report them in the comments section and we will try to get them taken care of ASAP. If you're on the front page, click the Read More button to hit the poll, otherwise scroll on down and tappity-tap-tap-aroo your vote on in.

Arrma Granite BLX vs Losi 5ive-T
5ive-T (52%, 259 Votes)
Granite BLX (48%, 243 Votes)
Total Voters: 502

Loading ...