March Bash-ness 2014, Round 2, Part 1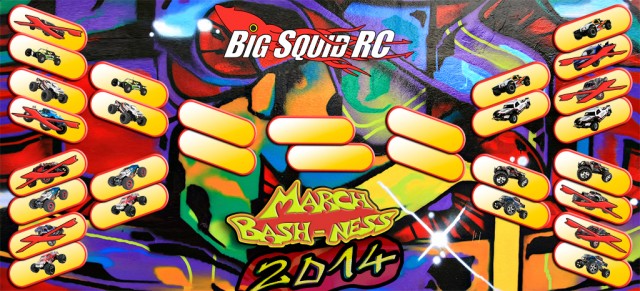 [Update: Yar, these polls be closed, matey. We're taking a day off and we'll be picking back up with Round 2, Part 2 of voting on Monday, the 31st, at 8:00 am. Thank you for voting in this round!]
Eight gone, eight move on. You could say there were some upsets in the first Round. Last year's champion, the Slash 4×4 went down in flames against Losi's 5ive-T. And the Stampede 4×4 knocked out it's own brother, the Slash 2wd, quite handily.
Things are really starting to gain steam now and the voting from here on out is going to be fast and furious. Once again, we'll be splitting Round 2 into two parts. The first bout sees Axial's big buggy, the EXO Terra taking on Vaterra's mega monster truck, the Halix. The second fight on the card pits Thunder Tiger's wicked rig, the MT4-G3 versus Arrma's refreshed and super fresh Granite BLX.
This poll will run until 11:59 pm CDT, March 29th. If you're on the front page, click the Read More button to vote, otherwise just scroll down and click the shiny buttons.

Axial EXO Terra vs. Vaterra Halix
Halix (66%, 391 Votes)
EXO Terra (34%, 205 Votes)
Total Voters: 596

Loading ...

Thunder Tiger MT4-G3 vs. Arrma Granite BLX
Granite BLX (56%, 524 Votes)
MT4-G3 (44%, 419 Votes)
Total Voters: 943

Loading ...