March Bash-ness 2014 – Round 2, Part 2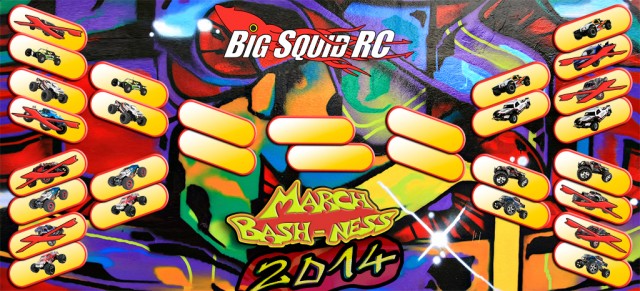 Welcome to Part 2 of Round 2. This last bit of voting determines our Final [less than five but more than three]. Losi has two hats in the ring, but one is going home. Will it be their super tough Ten-SCTE or super big 5ive-T? HPI's Savage Flux HP is taking on Traxxas' Stampede 4×4. Both great trucks in their respective categories, but how do they stand up against each other?
This round of voting will go until 11:59 pm CDT on April 1st, and that's no joke. If you're on the front page, click the Read More button to find the polls, otherwise just scroll down and pick your winner.

Losi Ten-SCTE vs. Losi 5ive-T
5ive-T (50%, 326 Votes)
Ten-SCTE (50%, 323 Votes)
Total Voters: 649

Loading ...

HPI Racing Savage Flux HP vs. Traxxas Stampede 4x4
Stampede 4x4 (60%, 390 Votes)
Savage Flux HP (40%, 263 Votes)
Total Voters: 653

Loading ...