March Bash-ness 2014 – Round 3!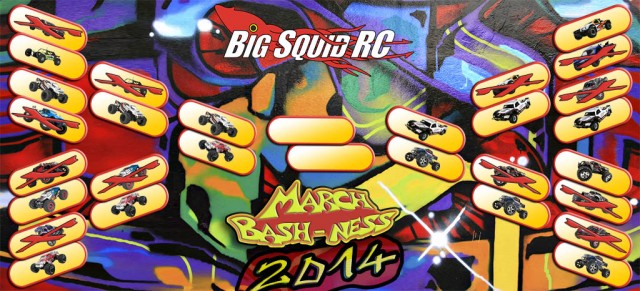 [Update: Polls are closed. We're going to take the weekend off and spend that time carefully reviewing the final results, after some earlier poll spamming shenanigans. Stay tuned to the front page for the Championship round and our big March Bash-ness give away entry information. Monday is the day that the end begins.]
This is it. The Dance is almost over. 12 have been sent packing and four are left. Round 2 saw some very surprising results. The Halix handily handed the EXO Terra it's pink slip. The Arrma Granite BLX took down the Thunder Tiger MT4-G3 (wait… what?! I just…). Losi's fire breathing 5ive-T JUST BARELY squeezed by the Ten-SCTE, seriously, three votes… THREE VOTES, separated the trucks at the end. And it really came down to the wire, I had to change the graphics a few times, thinking the voting was over, only to have another vote or two sneak in and change the results. And finally the Traxxas Stampede 4×4 unceremoniously kicked the HPI Savage Flux HP (wait… what?! I just…) out of the competition.
So that leaves us four. The Vaterra Halix is taking on the Arrma Granite BLX in what promises to be a very good match-up between two very good trucks. The second match puts Losi's 5ive-T up against Traxxas' Stampede 4×4, two more disparate trucks I don't think you could find.
Quite frankly, we didn't expect this group of trucks to make it this far. Not that they're bad or disliked trucks, in fact all of them are much loved platforms around the offices. But the Selection Round numbers showed greater interest in other, now eliminated, trucks. As previous years have shown (2012 anyone?), March Bash-ness is always surprising.
This round will run until 11:59 pm CDT on April 3rd. If you're on the front page, click the Read More button to hit the polls, otherwise just scroll on down and tap that… vote button.

Vaterra Halix vs. Arrma Granite BLX
Granite BLX (50%, 544 Votes)
Halix (50%, 535 Votes)
Total Voters: 1,079

Loading ...

Losi 5ive-T vs. Traxxas Stampede 4x4
5ive-T (50%, 553 Votes)
Stampede 4x4 (50%, 549 Votes)
Total Voters: 1,102

Loading ...