March Bash-ness 2014! Selection round.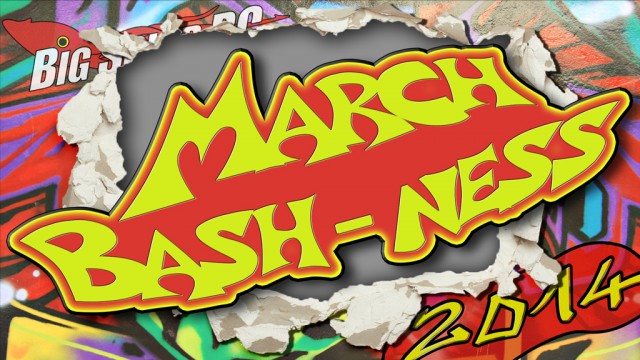 [Update: The Selection round is now over. Thank you everyone that nominated and entered the Pro-Line Trenchers giveaway. Give us a bit to crunch all the numbers and keep an eye on the front page for the first round of voting for March Bash-ness 2014!]
Middle of March? Spring just around the corner? That means one thing. It's time for Big Squid RC's 4th Annual March Bash-ness.
For the uninitiated, March Bash-ness is our annual Reader's Choice event where you, our dear and handsome and much loved reader, get your say in which RC vehicle is the greatest bash vehicle ever. That's right, ever. Not just what was released in the last six months or year. Not just which one was put on the ballot because a particular company paid to be there. It's all you. You nominate the contestants, you vote in a head-to-head battle between models, you determine the final victor.
This is the Selection round. Use the comments section below to nominate your best bash vehicles of all time. No need to limit yourself to one vehicle or one released in the last year or even specific categories. Nominate as many as you'd like of any type from any period in RC history. In two days, we'll close the selection round, pick the 16 most nominated vehicles out of all of the nominations and then the competition will begin.
So which car or truck (or quad maybe?) will join the Pantheon of March Bash-ness winners? Which can compare to the previous winners like the Savage Flux HP, Helion Dominus 10SC, and Traxxas Slash 4×4? Which vehicle will we be giving away when it's over?
That's right, as tradition goes, when March Bash-ness is at an end and a victor is chosen, we give the winning vehicle (and sometimes the runner up) away to one (or two) lucky reader(s). And just because we love you all so much, how about we give something away just for helping spread the word? Use the entry form below to put your name in the hat and you may walk away with a brand new set of Pro-Line Trenchers in a size of your choice. But before you leave, be sure to hit up the comments section below to nominate your competitors for March Bash-ness 2014!
P.S. Please no flame wars in the comments. Keep it civil or get banned from the giveaway.