March Bash-ness – Round 3 Voting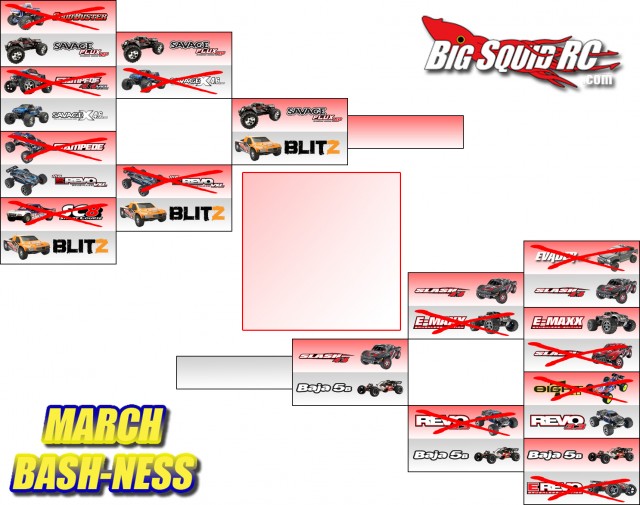 click to embiggen
[Update 2: Voting for Round 3 has now closed, click here for the Final Round and Giveaway entry!]
[Update: Due to a d-bag spamming our poll, I had to go back and edit all 180 of his/her cast votes from the polls.  That user has been warned, if it happens again, the ban will be permanent.]
Round 2 of March Bash-ness has passed and four more trucks have been sent home to momma.  Brushless proved to be the dominant power source as the Savage Flux HP beat out it's nitro sucking brother, the Savage X 4.6, it wasn't even close folks, the nitro-heads in the audience should feel embarrassed.  Traxxas' little truggy that could, the 1/16 E-Revo… couldn't… losing to the orange and black of the Blitz, though it certainly gave the Blitz a run for it's money.  In the monster truck versus short course truck battle, the Slash 4×4 took the win by a decent margin.  And the Baja 5B continued it's domination of the Revo family, handily handing the Revo 3.3 it's… rear end.
Moving on to round three, we have the Final Less Than Five but More Than Three (please don't sue us NCAA).  The first fight of the day is between HPI's two titans, the Savage Flux HP and Blitz.  HPI is guaranteed one spot in the Final, which truck will it be?  And in the second, we have Traxxas' last chance to make the Final, the Slash 4×4, but it's going up against an imposing opponent in the Baja 5B.  Will Traxxas' fans rally around the Slash 4×4 and push it through?  Or will HPI dominate March Bash-ness?  As the Bash-ness draws nearer to close, we are nearer to giving away a brand new vehicle.  More info on the giveaway will come during the Final Round, so make sure you come back.
If you're on our home page, click the Read More button to start voting, else, just scroll down and get your click on.
Please vote for one vehicle in each poll.

HPI Racing Savage Flux HP vs. HPI Racing Blitz
Savage Flux HP (70%, 271 Votes)
Blitz (30%, 116 Votes)
Total Voters: 387

Loading ...
---

Traxxas Slash 4x4 vs. HPI Racing Baja 5B
Slash 4x4 (55%, 221 Votes)
Baja 5B (45%, 184 Votes)
Total Voters: 405

Loading ...