Mi4CX now even more tunable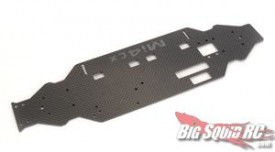 Schumacher has decided that their super sedan, the Mi4CX, just wasn't tunable enough.  To rectify that situation, they've created a couple new chassis to offer up that missing bit of tunability.  The new soft weave carbon fiber chassis has been under development for several months and has been tested in many big races to make sure it's up to par.  The soft weave is said to have softer side-to-side twist, while still maintaining rigidity front-to-rear.  That combination offers less chassis flex under acceleration and braking and more traction overall.  The chassis will also be available in two thicknesses, 2mm and 2.5mm for even more tuning options.
The soft weave chassis will be available soon, at a MSRP of £43.33 (about $70.51).  Check out the Schumacher website for more info.