Milestone RC Park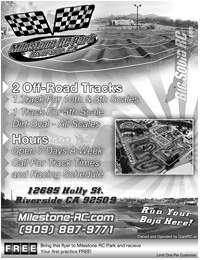 I just wanted to give a hat tip to the Milestone RC Park in Riverside CA. The flyer is attached. What I like about them is the seem to run any and all scales with a 1/5th scale friendly track! You don't see that too often now a-days.
For information, click the flyer, or the official website
http://www.milestone-rc.com/. It looks like they have a few events coming up, so if your a big scale fan in the area, make sure to check it out!