MIP Ball Diff Kit for Traxxas Slash (Magnum 272 Transmissions)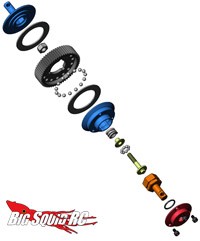 If you have been around the bashing scene for a while, the name MIP should be a familiar to you. I think if you owned a Traxxas T-Max, you were probably running MIP CVD's. Well, MIP is about to be a name you start to buy again as they are starting to hop-up the Traxxas Slash!
This is the MIP Ball Diff kit for the Traxxas Slash. Actually any Traxxas running the Magnum 272 Transmission, so you can also include the VXL and XL Rustler, Stampede, and Bandit! Their new design, ready for all your brushless bashing and also allows for setting the diff without taking apart the whole transmission! Head over to the MIP site for more details.