MIP Pro4mance Losi Ten SCTE Chassis Review
THE MIP Pro4mance Losi Ten SCTE Chassis and Tuning Package Review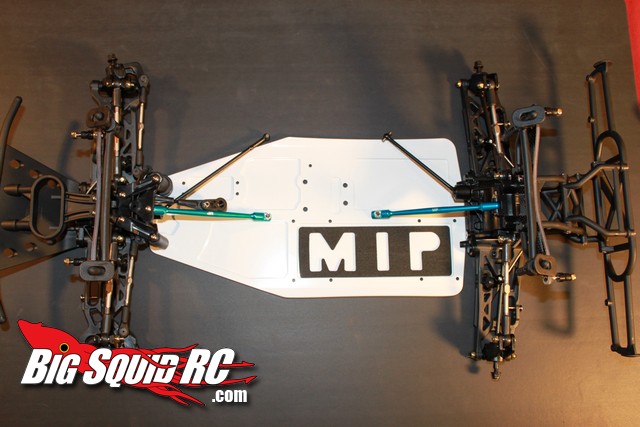 Do you remember the era of the factory works bikes in motocross? The late 1970's and early 1980's? Well I do, and I lusted for a full on factory works bike back then, and today I lust after a full on factory works rc truck. Today we'll be taking a look at the MIP Pro4mance pack for the Losi SCTE, a kit that might very well be capable of taking an already stellar off road machine to an unprecedented level, the level of a full on works machine. Does the MIP Pro4mance kit live up to those extremely optimistic expectations? Read on find out…
From: MIP- Moore's Ideal Products
Direct Link: Pro4mance Kit for Losi SCTE
Review By: Cubby
Pics By: Cubby
Misc Specs-
Weight of MIP equipped truck ready to race (measured by us): 6.4 lbs
Street Price- $190
Needed To Complete: You'll need a Losi Ten SCTE of course, and the usual array of rc tools. You'll also need some Associated 45 weight shock oil.
Install Issues: We didn't run into any issues of any kind. Everything bolted up with perfection.
How long did it take us to get everything installed? I didn't precisely measure the amount of time I spent switching everything out, but I roughly spent two solid evenings bolting up the MIP chassis and tuning package. There is a lot to bolt up in this kit- you've got a chassis, front and rear towers, new steering tie-rods, and new shock internals, take your time and build it up right.
Test Drivers: All the usual suspects- Cubby, Iron Mike, Brian, Tim
Test Venues: DirtBurners in St Louis Missouri, RC Outlaws in Collinsville Illinois, Costco parking lot, backyard
Set-up Notes:
We started the build with a brand new Losi Ten SCTE ARR. No mega-uber truck is complete without the help of Pro-Line, hence the reason we used Pro-Line M2 Blockade tires and a Pro-Line FloTek Chevy body. The stock shock bodies were not even close to being trick enough, so they were ditched and ST Racing Concepts shock bodies and caps were used. We were shooting for a "light" set-up, so we used a Castle 1410 3800 kv motor with a Castle Mamba Max SCT Pro speedo. This uber build required the use of a high end servo, so we bolted in a Hitec 7985MG. A Futaba 4PL was used to handle all the radio work. Lastly, we used Pro-Match Racing Lipo batteries during testing.
Turning: Corner speed wins races. Period. The MIP set-up does wonders for an already good performer. Seriously, kudos to the guys at MIP. The MIP set-up greatly enhances mechanical grip over the stock set-up. The side bite of the MIP kit is outstanding. Greater grip equals higher corner speeds, and the MIP SCTE carries tons of speed in the corners. And… it carries all that extra speed while feeling more planted/predictable. When you really push the envelope the rear doesn't suddenly break away like the stocker does, it gives you some warning that you are on that edge, giving you time to back it down a notch. When the traction finally does give way, it does so much more predictably than the stock truck. The MIP set-up only has one cornering downside compared to stock, it doesn't rotate as fast in super tight 180 corners. If you drive/race on an ultra small/tight track, this might be an issue, but everywhere else the MIP set-up is clearly superior.
Jumping: Once again, the stock SCTE is a fine jumping machine, but the MIP upgrades make it even easier and more controlled to jump. Super bombed out jump faces are easily tackled with the MIP set-up, and landings are also more plush. For you guys that like to land slightly sideways to rotate for an upcoming corner you'll need to take care when driving with the MIP package. The MIP generates so much more side-bite that it will traction roll in spots that you aren't used to. That can easily be tuned out if needed.
Bumps/Whoops: HOF. What, you don't know what HOF is? It stands for Hall Of Fame. Yes, the MIP Bypass1 Realshock pistons and re-worked shock geometry are THAT good. It's the best I've ever driven on bumps, whoops and chop. Little stutter bumps coming out of corners? You barely know they exist anymore. Chunked out section of track where everyone has been over jumping a single? Once again, you hardly notice it's there. Big clods of dirt that gets worked out onto the track? Well, you will notice them, but they won't toss you half way off the track like the stock suspension does. The MIP equipped suspension on the SCTE is HOF, the rest of the rc companies have some catching up to do.
Bashing: We spent more time at the track than in the backyard with the MIP SCTE. From what time we did spend on pavement and in grass, the truck was on rails. Road joints were barely noticeable and turning on pavement was outstanding. Hucking the truck from a vert ramp into a grassy backyard proved the truck was a pleasure in the air, but was a bit lightly damped and sprung for 10 foot high landings.
Misc Notes:
One thing the MIP chassis lacks is droop screw tabs. These tabs on the chassis serve 2 purposes. First- is to take some of the stress off the shocks parts when g-forces attempt to push them past fully extended. Second- they allow you to make quick droop adjustments via the grub scews in the a-arms to limit down travel for high bite surfaces. We didn't run into any issues because of the lack of these on the MIP chassis, but I would rather have had them there for adjustably and durability purposes in the future instead of the very small reduction in weight.
If you hold the shocks close to your ears you can hear the MIP Bypass1 pistons "pop" on the rebound stroke due to their design. That is neither good nor bad, just unique.
I personally prefer old school paper instructions, the directions for the MIP package are on-line. I simply don't have room on my pit table for a laptop. Other people might have zero issue with this.
The included battery blocks are fine for racing, but aren't large enough, or adjustable enough, for bashing.
Kudos on the long rear chassis brace, we've bent a half dozen stock SCTE chassis right in front of the short stock brace.
Broken Parts: We did not subject the MIP kit to an all time record beating, we just put it through our normal track and bash routine. After roughly 20 runs nothing was broken, stripped, or bent.
---
As with all of our stuff, if you see us at a bash, stop by and check out the vehicles we have with us. We may let you take a test drive, and at the very least get you some stickers!
SUMMARY
Time To Bash – 8.0/10 -Everything bolts up as quickly as stock parts. However, replacing a chassis and all the other gear is going to take you several hours, this is no quick add-on.
Workability – 9.0/10 – All the MIP gear is of the highest quality, fits like a glove, and is remarkably well laid out, thus making everything easy to wrench on.
Car Show Rating – 8.0/10 – Everyone was dig'n the uber carbon fiber towers, but we were split on the white chassis. Some guys really liked the white, while others would rather have seen an anodized blue or gun metal look.
Bash-A-Bility – 10/10 -Absolutely nothing broke.
Fun Factor – 9/10 -Wow. The MIP set-up makes you feel like Superman out on the track, needless to say that is a LOT of fun. It handles so well you don't want to stop driving it.
Handeling – 9.5/10 – You MUST drive one of these, it will open your eyes to just how good a 4wd short course truck can drive.
Value- 8/10 – The good stuff is never cheap, but what makes it a good value is that for $190 you end up with an incredible handling truck.
Big Squid Rating – 8.8/10 – Tentacles.. Yes, the MIP Pro4mance pack makes the Losi SCTE "factory works bike" good. If you want the best handling truck at the track, this is it.