Modding The Helion Dominus Part 1
Modding The Helion Dominus Part 1 – Reducing Parachute Effect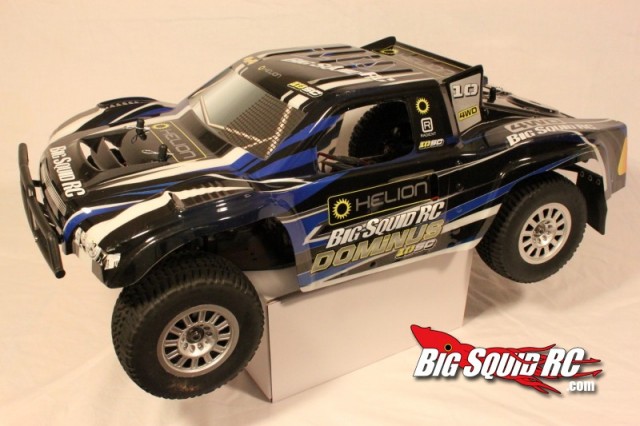 Cubby struts over to my desk the other day and plops the new Helion Dominus 4wd short course truck down on top of it. Cubby had recently reviewed recently reviewed the truck and now he wanted me to do a series of hop-up articles, turning the tame RTR into a full fledged bash machine. First up on the list of mods- to vent the stock body to help eliminate the dreaded "parachute effect" while jumping.
Parachute effect happens when air gets trapped under the body causing the truck to hang in the air, or in severe cases to even flip over backwards. The key to eliminating this is to cut holes, allowing the air trapped under the body to escape.
Keep reading for more pictures and instructions…

The Dominus body comes with several areas ripe for being vented. Helion included scoops on the front fenders, hood, behind the cab, and on the sides of the truck. All you have to do is cut out the backsides to these scoops, thus allowing air to escape and reducing parachute effect. I venting those areas, plus three others- I added holes to the bed area, I cut out the side windows, and I removed lexan from the taillight area, allowing even more air to escape.
Some example photos:
1- Drilling pilot holes with body reamer. 2- Use body scissors to trim to size
3- Use hobby knife to straighten lines. 4- Finished example

Creating the holes are simple and cheap, you can use a Dremel, or you can use a body reamer along with body scissors and a hobby knife.
Once the holes were finished, Cubby and I took the Dominus to a nearby outdoor track to check the results. Venting the body had indeed reduced body lift in windy conditions. One particularly big double jump on the far side of the track was notorious for catching air under the Dominus, but with our newly vented body the Dominus was much easier to keep flat in the air.
In the next installment of "Modding The Helion Dominus" I'll be throwing on a sic new set of shoes to improve traction on-road, stay tuned.
The Dominus is a HobbyTown exclusive, so if you are looking for one, you will need to order online, or hit your local HobbyTown!