Modding The Helion Dominus Part 5 – Installing Upgraded Off Road Tires
Modding The Helion Dominus Part 5 – Installing Upgraded Off Road Tires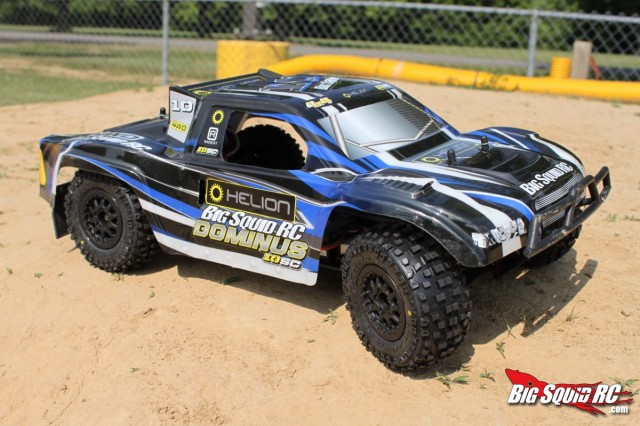 The Helion Dominus has proven itself an extremely poplar bash machine, so popular in fact that it won BigSquid's March Bashness contest against some very stiff competition. Many of the people that have chosen the Dominus as their basher of choice use it strictly off road. While the stock Dominus tires do a sufficient job off road, they are far from offering the best traction possible. Over the last few months we have tried a multitude of different tires on our Dominus and have determined that we like the Pro-Line Badlands the best for all around off road bashing.
Here is what is needed to properly install a set of Pro-Line Badlands on your Dominus….
1. Remove the nut at each wheel to remove the stockers.
2. Slide your new Badlands tires onto new rims of your choice. We used black Pro-Line Renegade rims (part #2725-03) for our Dominus, these are the same offset used for the HPI Blitz and rear of the Traxxas Slash 2wd. Black was the color of choice to go after the popular "murdered out" look.
3. Use CA glue to secure the tires to the rims. We used super thin CA from Bob Smith Industries, this is a fast setting yet inexpensive glue available at most hobby shops. Use the CA glue where the bead of the tire meets the rim and allow it to dry for at least an hour. Remember, a little bit of CA goes a long ways and be extra careful not to get any on your skin or in your eyes.
4. Install your freshly mounted Badlands by securing them with the nuts you took off earlier.
5. Congrats, you are all done and ready for a test drive!
Total Cost of Mods-
2 pairs of Pro-Line Badlands tires- $44
2 pairs of Pro-Line Renegade wheels- $18
1 half ounce bottle of Bob Smith Super Thin Insta-Cure Glue- $2
Total- $64
Comparing the stock Dominus tires to the Pro-Line Badlands is like comparing a dual sport motorcycle tire to the full blown race knobbies on Chad Reeds Honda. The stock tires are very tame while the Badlands have huge knobbies made to shovel rock, dirt clods, and mud. It didn't make a difference where we drove our Dominus, the Badlands gave a lot more traction than the stockers ever did, making an immediate and dramatic improvement in how the truck drove. Even Cubby couldn't quit talking about what an improvement the Badlands made to our Dominus and I totally agree with him, the difference was quite pronounced. If you bash your Dominus off road we can't recommend the upgrade to Badlands tires highly enough.
In the next installment of "Modding The Helion Dominus" we'll be mounting up a new body to improve looks, durability and to improve in-flight aerodynamics, stay tuned!
By: Tim Mohr