ModelSpace USA Formula 1 Cars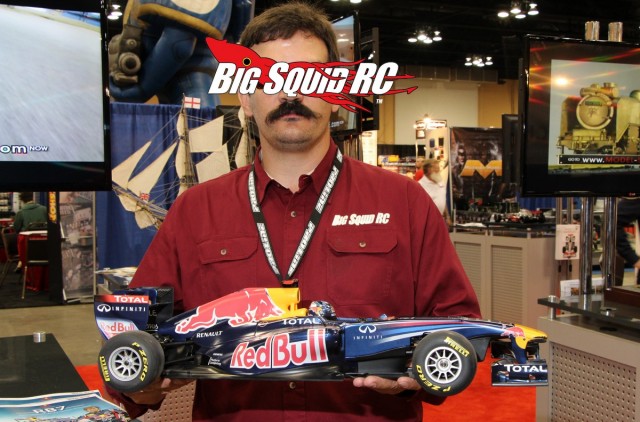 You may have seen ModelSpace commercials and wondered what they are all about. Their cars sure look cool, but what is the deal? We got a chance to talk to them at iHobby and look at their products up close and personal.
So what's the scoop? ModelSpace USA had their Sebastian Vettel Red Bull Formula 1 1/7th scale nitro rc car and McLaren F1 static model on display at the show. Both cars were impressively large compared to most rc F1 cars you might come across, but their detailing was what really set them off. The Red Bull is a fully working rc car with a base platform made by Kyosho. It looked great and I had to nearly taser Cubby to get him to put the RB7 down.
The McLaren was a static model and its level of detailing was several levels higher than even the Red Bull. The McLaren was also quite large, but it had far more detailing like heat shielding in the rear, intricate shocks, and the steering wheel even turned when you moved the front wheels.
Buying and building a ModelSpace car is a bit different than a normal rc car. ModelSpace uses a pay as you build program where they send you a set of parts with build instructions each month. The Vettel Red Bull car costs a bit over $50 a month for 25 months. The McLaren costs a bit over $100 a month for a twelve month build.
To get more information on the ModelSpace Red Bull RB7 simply click This Link, for more information on the '08 McLaren MP4-23 THIS is the link you want.
Click Here for more Formula 1 news on BigSquidRC.