Monea and Sinclair Join Team Associated!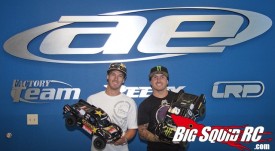 I flippin' LOVE the X Games! Team Associated has just signed two bad boys from the freestyle motocross scene; Mark Monea and Cam Sinclair. Look for both of these guys to light it up in the "Best Trick" competition. For those of you who don't follow the X Games, Cam brought home the gold last year with a SICK double backflip. Mark is known as the first guy to land the Carry-On, which is just a ridiculous 360 front flip.
Make sure you check out Team Associated to grab some more info!