Monster Truck Madness #11 – BIGFOOT Ranger Replica
Over the weekend I attended the annual BIGFOOT 4×4 Open House in Pacific, MO and helped to put on an r/c monster truck race with my Trigger King friends. There were a lot of cool looking r/c's and full scale rigs, but the vehicle that has everyone in the solid axle community buzzing is the replica BIGFOOT Ranger that was on display.
The Ranger, built by Travis Sutton of Sutton Motorsports (he builds all kinds of r/c monster and pulling products) with help from Ross Hinshaw at RH Designs, is a stunner. Before getting to the guts of the Ranger, let's talk about the 1:1 that it's replicating.
I was going to type out a brief history, but this graphic provided from BIGFOOT does a great job explaining what it was-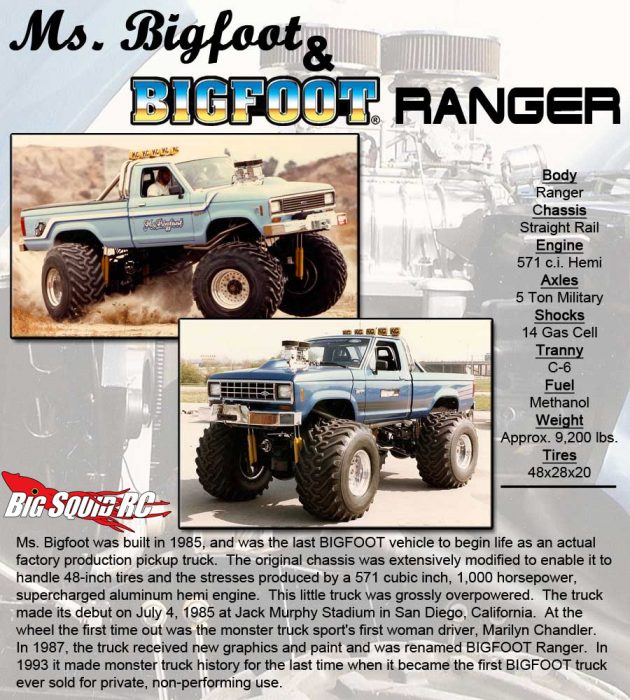 The "grossly overpowered" thing is the kicker here. Just go to YouTube and with a few searches you can find some crazy footage of this truck. It was insanely quick and could fly over anything it was pointed at- whether mud, rivers or crush cars. Here are some more shots of the Ranger, courtesy of our friends at BIGFOOT 4×4.
A few of us knew Travis was working on some kind of top secret project to debut at Open House but he would not say what it was. He brought the Ranger out as a surprise. So let's get into a tale of the tape. This custom build features a little bit of everything-
– RC4WD 70mm Shocks
– Axial SCX10 Transmission
– TLR Touring Car Shocks modified to simulate airbags
– ESS Sound Unit
– Castle Sidewinder ESC w/ Astroflight Turbo 05 motor
– Tamiya Blackfoot III Rollbar
– Vintage Parma Ford Ranger Body painted by Sutton Motorsports
– RPM Blower modded w/ RH Designs 3D printed Predator Carbs
– Hitec 5645 Servos (front and rear)
– Tamiya TLT-1 Axles
– Custom Sutton Motorsports Frame Rails
– RH Designs 3D Printed Light Bar and Headers
– RC4WD Militant Wheels w/ RH Designs 3D Printed (rubber) Classic 48″ Goodyear Terra Tires
The details on this piece are outstanding. So many bits of the 1:1 were lovingly recreated here and it really shows.
While the whole truck looks fantastic, those old school Goodyear tire replicas really bring the whole thing together. They are 3D printed rubber and look about as authentic as you are gonna get.
The ESS Soundbox is the perfect application for this truck. It has a sound profile that is very close to how this sort of carbureted big block sounded back in the day. And yes, luckily I did get to see this vehicle in person several times as a little kid!
This truck isn't just a show pony. It did several scale car crushing exhibitions throughout the day…and even rolled over once, yikes!
Don't worry though, there was hardly a scratch.
Travis and Ross did a heck of a job with this project. It would be cool to now see building mini-monsters become a trend. In fact, as I'm writing this I'm currently begging them to get me a set of these tires so I can do up our RC4WD Blazer Trail Finder 2 as one!
Hopefully you all enjoy having a look at this build! Nice job, fellas.