Monster Truck Madness #14 – The Summit Showed the Way
The hobby has gone Traxxas TRX-4 mad as of late, but for this edition of MTM I want to look at the truck where it got all its mojo from – the Summit.
The Traxxas Summit was originally released in 2009 and is still available today, albeit with several upgrades from the OG unit. Based on the Revo platform, it has remote locking differentials and a two speed transmission. The body is that of a futuristic SUV with an Exo-Cage.
One of my best friends has owned one since release and I had my own for a good while in 2013 (my former Summit is the black with blue flames in the above pic). I've been on trail runs with them, basher outings and also even raced one in mud bog competition. These things are unique beasts and I've always felt that owning one let you in on a very exclusive r/c experience.
The best way to describe it is as a "jack-of-all-trades, master of none." The features housed within allow for a versatile truck that let's you do a little bit of everything. Even though it's not a great crawler, you can still have fun on a trail run. While it's a bit too heavy and slow to be as nimble as some of its monster truck brethren (like its brother, the Revo) you can still have a lot of fun bashing one of these.
Ok, so I lied. There is one place where the Summit is the king. If you like to play in the mud, it's a freaking beast! Oh yeah, it's also waterproof which certainly helps.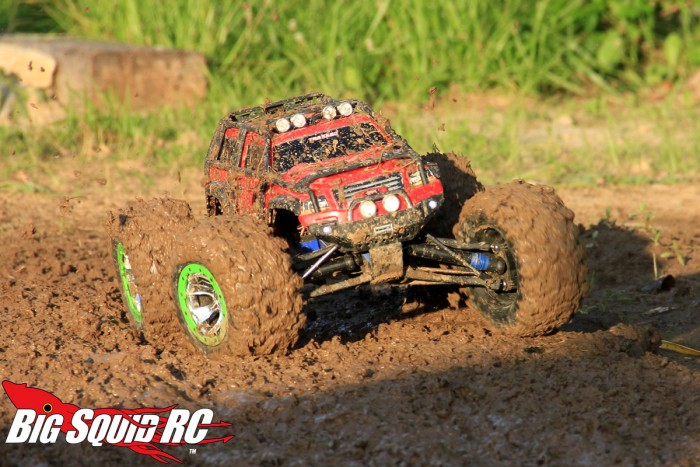 The remote lockers, two speed transmission, giant 750 size motor and exo-cage do come at a price- it's a very heavy truck that has an innate mechanical complexity thanks to all the moving parts. It's durable and fun, but it's also something that is not for everyone.
In many way it feels like the Summit was the beta test for the TRX-4. While one may be a monster truck and the other a traditional scaler, having spent a lot of time with both you can really tell that the engineers at Traxxas looked at what worked on the Summit, polished it to a shine and then took it into AutoCAD with the idea of creating a super versatile scaler that could do a little bit of everything. The TRX-4 is the end result, and it's one hell of a truck.
So if you're out there enjoying your new Land Rover, pour one out for the Summit. There is no way the TRX-4 would be what it is without its big brother. It was, and is, an awesome one-of-a-kind monster truck.