Monster Truck Madness #17 – Pro-Mod SMT10
In Monster Truck Madness #6, which I wrote in February, I went into detail on how best to get started modifying your Axial SMT10. The time has come to talk about juicing one up even further than that.
Back in April I made substantial changes to one of my two SMT10's to bring it up to snuff with the "Pro Modified" category of solid axle monster truck. This is the anything goes, mega-power class, long the domain of the mod-Clod.
I now have several months of racing and freestyle under my belt on this particular bucket o' bolts, so I figure it's time to share for those that are interested.
For wheels/tires and general suspension setup you can read the article from last time, as nothing has changed there.
The heart of this truck is a Graupner 120R ESC w/ 6.5 sensored motor. I have the programming card to make changes in the field and it's a heck of a nice brushless system. I'm running around 20 percent drag brake as that feels right for me. This is a lot of power to have on tap, and it makes for a very responsive truck.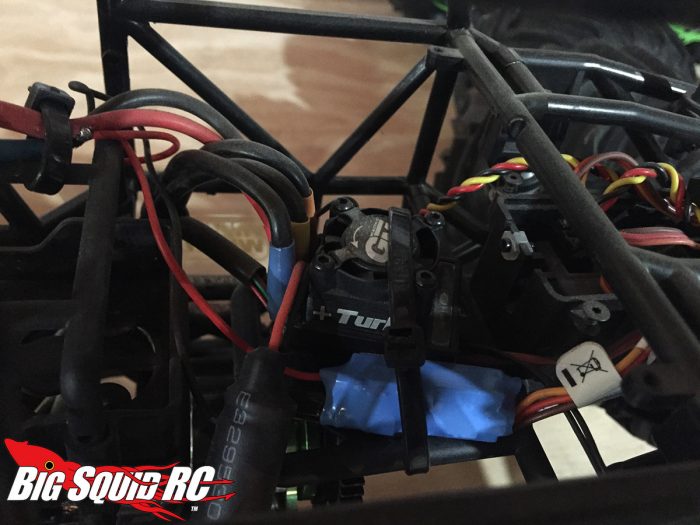 I wound up melting the stock transmission so instead of upgrading all of the internals I just swapped out the unit whole hog and put in a complete Hot Racing tranny that's designed as a direct bolt-on for the original SCX10 and Scorpion. It features an aluminum case, all steel gears and a solid single out-drive. When putting it in the truck I opted for a 16t pinion.
MIP driveshafts were next on the list, and I went with the set made for the Axial Wraith. No pretzel'd shafts!
For the axles themselves I installed RH Designs Beef Tubes to make sure there was no flex in the housings. Hot Racing dual shear knuckles/c-hubs and rear lockouts finished out the corners.
The final piece of the puzzle was the steering. I needed a responsive, high torque servo to get those big tires turned in a hurry. I went with a Hitec HS-7955TG Titanium Gear servo and a Castle 10A external BEC.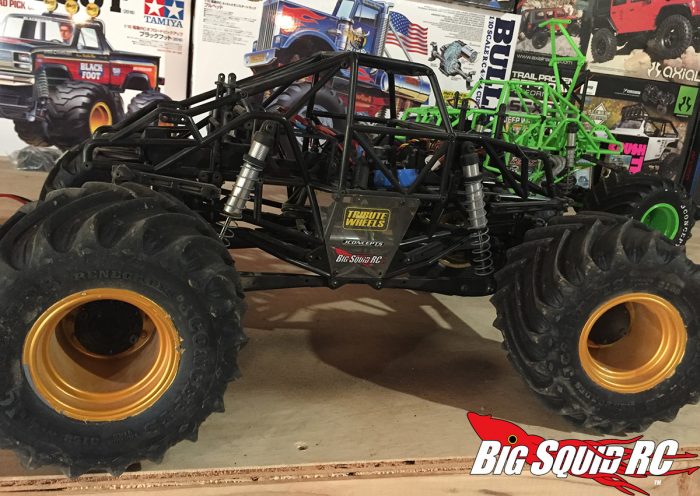 I have heard mixed things about Hot Racing parts quality, but everything had great fit and finish for me and it's proven durable.
I typically run Incision steel steering links on my Axial based monsters, but given that I actually like Axial's stock setup on this truck and wanted to allow for something to give in a very hard landing situation, I decided to hold off on the aftermarket parts and see how it would do. It's actually performed great thus far! I have the Incision parts in my pit box should something happen, but I love the handling as-is right now and don't want to upset the weight balance if I don't have to.
For those wondering about the body, it's a JConcepts 1979 Ford F-250 Supercab. It looks good on the stock wheelbase.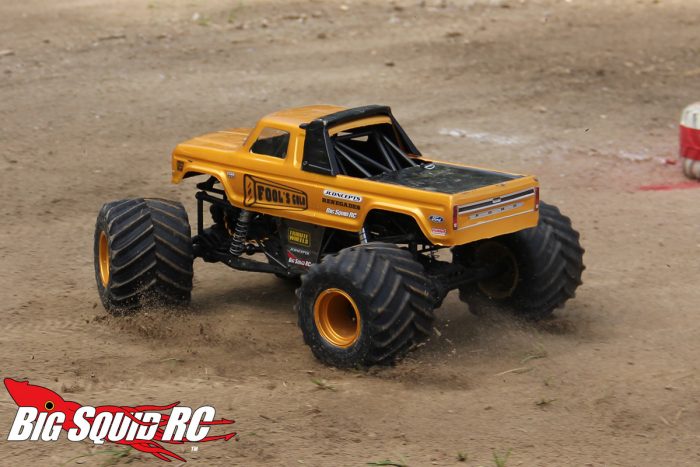 "Fool's Gold" is a blast to drive and I've been pretty successful with it in competition. It handles great, has plenty of power and holds together just fine. The only issue I've run into in regards to maintenance is changing out the standard wheel nuts to serrated ones so as to stop them from backing out.
If you were wanting to know what I've done to make my SMT10 competition ready for the modified class, there you go! Up next are going to be shocks, aluminum 4 link bars and a few other goodies. After I get some drive time in on the next round of upgrades, I'll be sure to discuss them here. Until then, I'm enjoying the hell out of duking it out with Clods and other shafties. The SMT10 is a great platform!