Monster Truck Madness #20 – MST MTX-1 Teasers
The MST MTX-1 solid axle monster truck has been teased quite a bit over the last month, and enough has now been shown where I think it's worth having a preliminary discussion.
The first thing I should say is that I'm excited for another SA truck to hit the market. I'm not super familiar with the MST brand, but I've heard good things about their drift cars. Their CMX scaler? Well, that is sort of enigmatic.
The MTX-1 looks to be the middle ground between an HPI Wheely King and Axial SMT10. While it has a similar, yet slightly larger size than the WK, the vehicle looks to feature a modern suspension and chassis layout more resembling the SMT.
It's nice to see from the video that the truck will have front and rear sway bars. Finally! Scale monster trucks really need sway bars to avoid being a rolly polly, and the setup on the MTX looks to be similar to what you'd find on a high end race monster. That's pretty good. Here's a screen shot I snagged.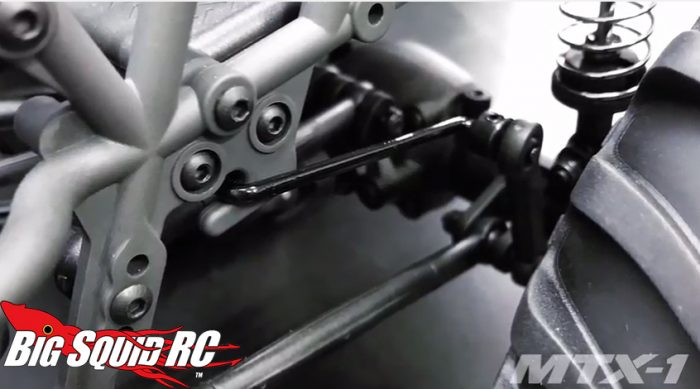 In addition to being a needed feature, that also shows that the designers were paying attention. It's kind of funny how often a good sway bar setup has been neglected on solid axle MTs over the years, but it's true.
The old school Chevy body's large size compared to the tires plus the relative overall small size of the rig give the vehicle the appearance of more a mega-truck than monster. I think that's pretty cool.
The quality of construction is a complete mystery to me given my lack of familiarity with the brand, but at least it has hex hardware. That right there gives it an edge against HPI and Tamiya-fare where Phillips style screws are standard (boo!).
That's really all there is to discuss at this point, save for the price point of $350ish. While a tad on the pricier end of the spectrum for something of that size IMO, final specs really aren't known so it wouldn't be fair to render judgement.
Sorry for being sort of vague here but despite all of the details not being out there just yet, I have been wanting to talk about this truck here. Once it hits the States (late fall is what I'm told), I will for sure be checking it out and a proper review will come of it. I'm sure some of my monster truck club-mates will have them as well so we can do a little on-track shootout.
Until I get one in my hands, that'll have to do!