Monster Truck Madness – 2019 BIGFOOT 4×4 Open House Recap
On Saturday, June 1st, the annual BIGFOOT 4×4 Open House took place in Pacific, MO. As is usually the case, it was a veritable smorgasbord of activities for the monster truck lover.
Many of the team's vehicles were on display for fans to get a close up look at, and various other monster machines were on the site as well. There were several car crushing performances throughout the day, by both modern BIGFOOT trucks and vintage old school monster trucks.
There was also a solid axle r/c monster truck race, put on by my club, Trigger King R/C. Big thanks to sponsor JConcepts for coming out and supporting the race!
The event started off with a BIGFOOT Show-N-Shine competition, which was open to any vehicle sporting a BIGFOOT themed paint job. All the participants got to judge. There were some very good entries, but ultimately the prize went to Ross Hinshaw for his beautifully built BIGFOOT #18 replica chassis, complete with hauler tires.
Next up, three classes did battle in heads-up elimination racing. The track was a slippery, gravel asphalt but once drivers got a handle on it, the passes were smooth. After the (literal) dust settled in racing, a freestyle track was configured and drivers took turns beating the crap out of their trucks to impress the judges. It was a very tight competition, and the crowds loved seeing the 1/10 monsters get massive air/breaking parts.
The winners of the day were:
BIGFOOT Show-N-Shine – Ross Hinshaw (BIGFOOT #18 replica chassis)
Outlaw Retro Monster Truck – Josh Rhodes (BIGFOOT #4)
Sport Modified Monster Truck – Jason Ruona (NWO)
Pro Modified Monster Truck – Jason Ruona (Summit Racing BIGFOOT)
Monster Truck Freestyle – Bob C. (ViCor BIGFOOT)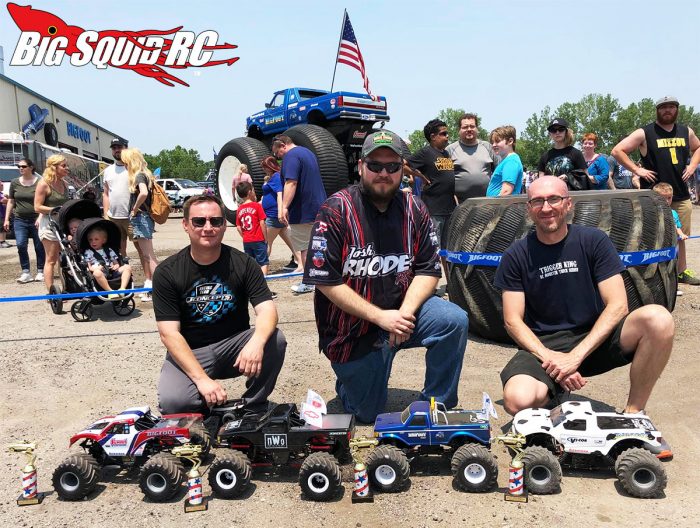 One last thing before we go- I've seen a lot of things happen over the years at monster truck events but never something as bizarre as a transfer case coming straight out of a truck. The Orange Crate truck was one of the hardest running old school rigs on the grounds, but during the last hit the suspension compressed very hard and, well, the energy had to go somewhere and therefore the transfer case was totally ejected! Check out the pic sequence below!
If ever get the chance to attend this event, you absolutely must! Thank you to all my club mates in Trigger King R/C for helping to put on the show, all the racers that attended, the JConcepts crew AND of course everyone at BIGFOOT 4×4!