Monster Truck Madness #22 – Stage 2.5
My good buddy Travis Sutton is always building really cool project trucks. You may remember his BIGFOOT Ranger that I posted recently. He's been at it again!
He recently built a Stage 2.5 (more on this in a minute) leaf spring equipped monster truck chassis for another friend of mine, Colby Marshall. Quick plug to Colby- if you enjoy watching TheMonsterBlog YouTube channel, then you are familiar with his video work. He does a great job.  Anyways, so yes, Travis built the chassis and Colby finished the build.
Now, you may be wondering what exactly I mean by "Stage 2.5". Monster trucks have always been classified into three distinct "stages" by both teams and fans alike. The breakdown is this:
Stage 1– A modified street pick-up riding on 46″ or higher tires. These were the first monster trucks, circa the 70's and early 80's. Leaf spring suspension, stock frame, more chrome than the Sturgis Motorcycle Rally…you get the idea.
Stage 2 – When monster truck racing became popular in the mid-late 1980's, these were the first attempts at purpose built racing vehicles. Heavy duty box frames mated to custom leafs, lighter bodies, planetary hubs, 66″ tires standard. Many consider this era the "Golden Years". Think TNT circuit racing.
Stage 3 – The modern monster truck. Developed at the tail end of the 80's, popularized in the early 90's and still being improved upon today.  Tube frames, 4 link suspension, gas charged shocks, cut or shaved racing tires and fiberglass bodies.
While your BIGFOOTs, Bearfoots, Grave Diggers and Taurus teams all had large budgets and could roll out state-of-the-art equipment in the early 90's, many owner-operator drivers could not afford to go the complete tube truck route and instead worked to modify their older Stage 2 trucks with some of the newer technology. This lead to hybrid leaf spring/gas shock vehicles that, on good days, could run with the early Stage 3's. These were dubbed "Stage 2.5" trucks, and that's what this build is replicating.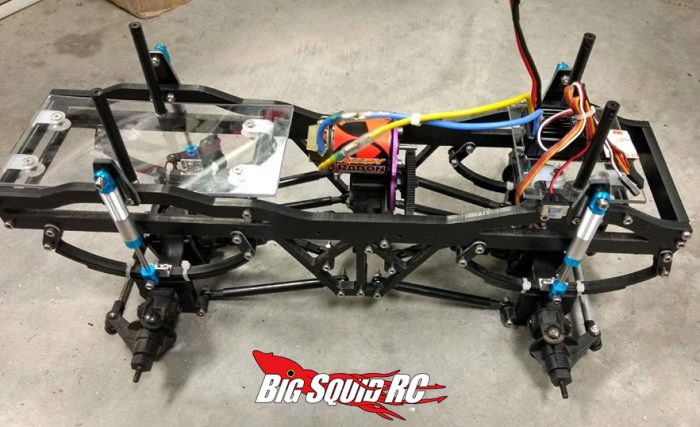 This truck's chassis and leafs are machined out of delrin. It's 4 linked and sports a set of RC4WD shocks. The transmission and axles are out of an HPI Wheely King. Topping it off is a Parma re-pop Ford Ranger and it hooks up thanks to JConcepts Renegade tires and Tribute Wheels.
So, how does it work? Seeing how well the delrin leafs perform, it's a wonder that they are used so rarely. They articulate well but have plenty of spring. I think RC4WD used to make them as an upgrade for a Trail Finder, but I don't recall any other mainstream manufacturer doing this?
The delrin construction also makes for a very light vehicle.
The truck looks and handles remarkably close to a vehicle from that era. It's bouncy, but in a much more manageable way than a standard leafer. This adds to the authenticity of the experience.
Many of my r/c monster truck racing friends have seen pictures of this truck over the last few weeks and have asked for a more detailed look at it, so there you go! As always, Sutton Motorsports has done a great job creating a one-of-a-kind project.
Until next time, keep it on all 4's!