Monster Truck Madness #4: The T-Maxx Conquers the World
It's hard to believe that the launch of the Traxxas T-Maxx was 18 years ago. There have been a lot of releases before and since, but nothing compares to the seismic shift that occured in this industry back in 1999.
Given how much time has passed (I was a sophomore in high school!), I'm sure there are many of you that have no clue what it was like when the truck came out. So with that in mind, this week we are going to take a break from scale monsters and have a look back.
It seems like it's hard to remember a time when Traxxas wasn't the big boy on the block, but previous to the T-Maxx, while still big, they weren't the king like nowadays. Ready to Run r/c packages were gaining steam, but they still weren't as widespread as today.
You had bashing monster trucks, but they were either smaller scale (Stampede, etc) or weren't really fit for the job (like the Kyosho Nitro Crusher my brother had at the time). The T-Maxx release was like a nuclear bomb.
All of a sudden there was a vehicle that had massive size, fantastic suspension, reliable power in the TRX .15, looked good and rugged durability- all right from the box.
It's hard to explain it to those who weren't involved in the hobby back then, but the things were everywhere in record time. Hobby shops were selling them as fast as they could get them, and it simply wasn't fast enough. Almost overnight the aftermarket started booming. You could get EVERYTHING in aluminum. Big block engine conversion kits, wheelie bars, high capacity fuel tanks- you name it, someone made it. They also probably sold a lot of them!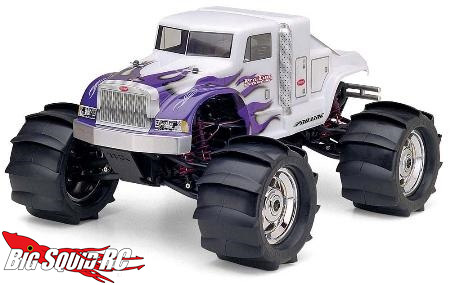 This was, in my opinion, the time when Pro-Line really came into their own as a go-to aftermarket company. They provided so many cool body and tire options that getting something from them was almost mandatory with your Maxx purchase. Who could forget their classic Peterbilt body and massive paddle tires (seen above)?
We got our T-Maxx in early 2000 and the thing was simply in a class of its own. My brother and I would haul our truck to the local construction yard and burn tank after tank. When we weren't huffing nitro we were trying to figure out the next upgrade to make. It was beautiful time for the hobby.
Here's a mash-up I found of various promotional footage from around the time. It shows off the 2.5 T-Maxx from around 2002-2003ish.
The E-Maxx came soon after, followed by various revisions of the nitro version. Within a few years every manufacturer had their own "inspired-by" kit and the whole genre of bashing monster truck was born. As race tracks adopted monster truck classes it soon to lead to more racey style chassis configurations and the Truggy became a thing as well.
Since 1999 there have only been two releases that have come close to the madness that was the T-Maxx release. The first was the Traxxas Slash in mid 2008. It lead to the short course boom and a huge uptick in club racing. The second would be the Axial SCX10 in early 2009, although it was a more a case of "slow burn turns into raging inferno" versus the instant flashfire of the two Traxxas trucks. The SCX10 made scaling mainstream and also helped reinforce the current trend towards more realistic looking and driving vehicles.
There have been fads, crazes and trends since the hobby started, but the mania surrounding the T-Maxx was unmatched. The hobby had been kicking and clawing at the mainstream for years, but the big monster truck from Texas FINALLY got the casual consumer involved and a weaned an entire generation of newbies on nitromethane. It was a great time in our hobbies history!