Monster Truck Madness #6 – Getting Started with an Axial SMT10
I've been waiting to do a big write-up on the Axial SMT10 for awhile now, so I figured after purchasing and modifying my second one (and with a third in the near future as well) it was high time I talked about it.
Since I nabbed my first one back in August I've spent more time wrenching, driving, racing and freestyling with it than I have any other r/c in my fleet. I've used various wheels, tires, batteries, gearing and ESC's, run it brushed and brushless, with different wheelbases, sway bar configurations and been lucky enough to nab some trophies with it as well.
I also have a good number of friends with them, of which you'll see pics of their trucks in this article as well as mine (Rotten Apple).
I'll open with this- this is my favorite vehicle that's been released since the SCX10. Many have been waiting for a quality, legit solid axle monster truck. The SMT10 is it….with the caveat you are going to have pump some money into it to get it there. Once you do, it's fantastic.
I'm going to discuss in detail the mods that most hardcore SMT10 folks do to their vehicles, with the "why" behind it as well. This will be a series of different articles here, but I'll start off what you need to do to get it to a great baseline.
At the bare minimum you are going to want to upgrade the wheels and tires to appropriate "Clod sized" getups if you want to have correct monster truck proportions. This is the first thing most do. I'll write more in depth on different tires and wheel options in future MTM's, but for brevity's sake the folks at Pro-Line, JConcepts and RC4WD make killer stuff that's ready to properly monsterize your SMT10. Yes, bigger tires will stress your parts a little more but don't worry about it- the truck can handle it just fine.
Electronics
After tires, electronics become the next most important thing on your "to-do" list. The included 27t motor is awful slow, even with the included 16t pinion. While that's slightly frustrating, the drag-brake equipped ESC is the thing that really sinks the stock setup. The lowest it will go is 50%, and it's not fun running around and jumping with this.
I'm using a Traxxas XL-5 ESC (fyi, the mount screws align perfectly with the stock unit) and 17t Radon motor. This is the popular setup that all my friends use, and is relatively inexpensive. We run a race class of these with 17t as a rule, as it's about the perfect speed to run it in a scale manner.
You can also plop in a brushless system, just be aware the stock gears aren't going to hold up too well to high power systems. You'll want to put in steel gears and/or MIP driveshafts if high speed is what you want.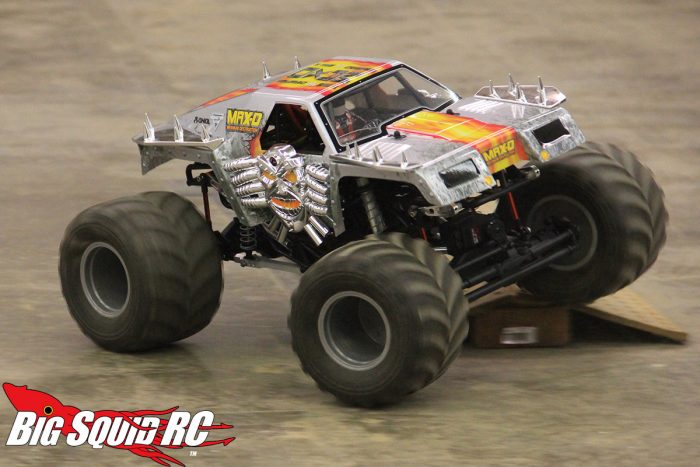 Sway Bars
The truck comes with a rear sway bar, which is fine for running it stock. If you upgrade your tires and power though, you're gonna want to add one to the front. The part number you need is AXI31331. Adding this will help keep your truck planted.
Lower the Ride Height
The stock ride height of the SMT10 isn't terrible, but ideally you want the lower 4 link bars parallel with the ground. This can be accomplished fairly easily using stock holes on the chassis. See below-
Be aware that this mod can cause your driveshaft to rub the upper 4 links at full compression. Being that my truck is primarily used in a competitive environment, the trade-off is well worth it.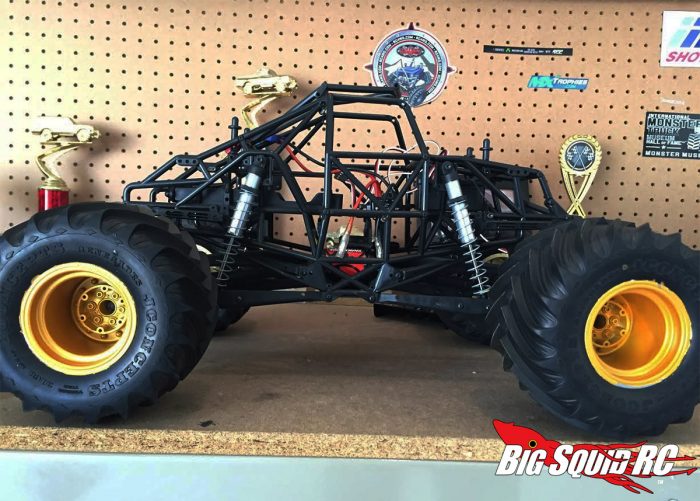 Congrats, you now have a killer monster truck that looks and handles close to the real thing. There are a lot more tricks you can do to the SMT10, and I'll talk about them in due time, but this is a great start.