Monster Truck Madness – A New Clod!
The best way to beat the quarantine blues? A new build! Not just any new build, but a Tamiya Clod Buster, my favorite r/c of all time.
I'm not actually sure how many Clods I've built at this point, but I've done a good number of them. I've never really detailed a build throughout the process, though. Now's the time.
Clods are interesting beasts in that that if you follow the instructions in the kit box, you will wind up with a fun, if not bumbling, old school monster truck. They really wake up with the aftermarket though, and there are a lot of ways you can go with it. Many of the mod parts are also only available from small batch builders.
What I'm going to do over the next few weeks is slowly build the truck up to box stock form and run it that way for a bit. Hey, it's been a LONG time since I've done a box stocker!
Once I do that, I'm going to start modifying it into a more performance oriented "Retro Monster Truck" for use at r/c monster truck racing events. That's where the build will get interesting, and given the amount of comments I receive from folks wondering how you build a truck like that, some of you will find it informative!
Ah yes, that new Tamiya kit smell. In these times of stress, it's more soothing than ever.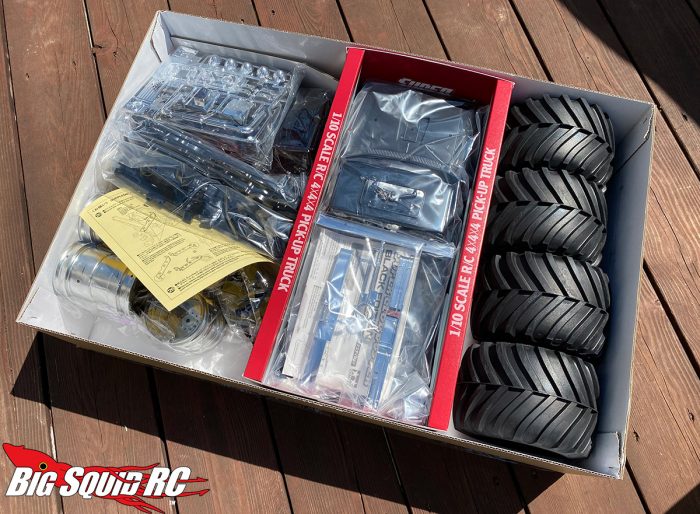 More to come soon!
Viewer's V-Treads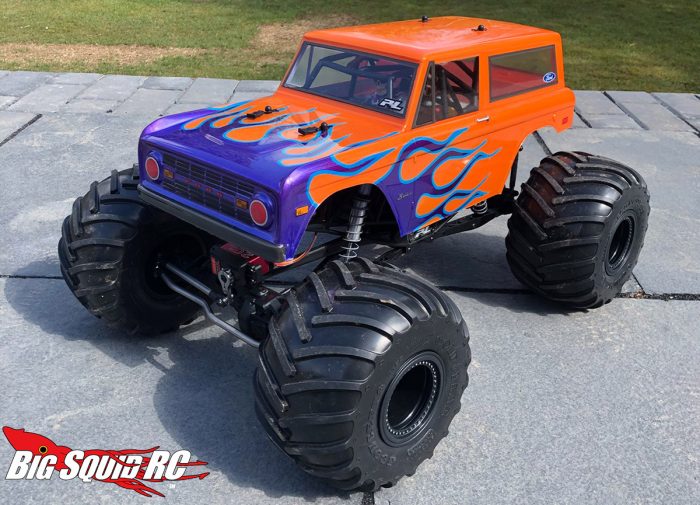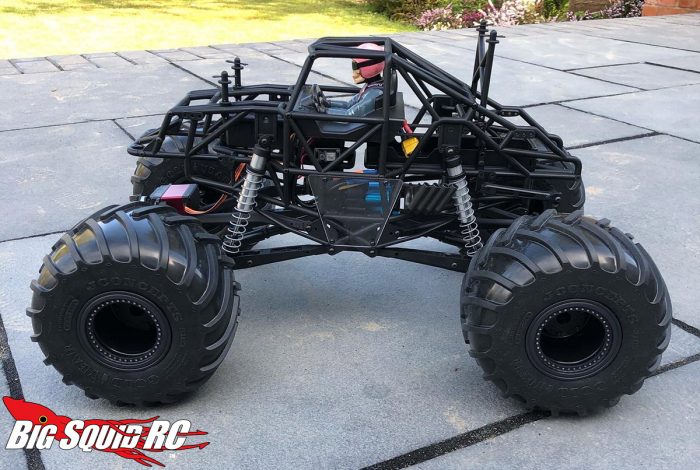 Here's a sweet build from across the pond. Dan M, from Birmingham, UK has been spending his recent free time building a Ford Bronco SMT10. Here are the specs he sent:
Axial SMT10 Builder's Kit
Proline 73 Bronco body ,
JConcepts Golden Years tyres and Tribute Wheels
JConcepts bead locks rings
Hobbywing ESC
Gool RC 2650 motor
RH design fuel tank on its way
Dan says he's always wanted an SMT10 since the original release, and he's finally jumped on a kit version. I absolutely love how this turned out. You don't see a bunch of Bronco racing monsters, but it looks mean as hell with the Golden Year tires.
Want to show-off your monster truck? E-mail pics and build info to doug@bigsquidrc.com as I'm featuring a build a week from here on out!
Stay safe and I'll see you later this week with the "launch" of a second regular column of mine 🙂