Monster Truck Madness – A Winter Mini Project
Hello friends! It's ya boy, back with another week of MTM.
So, the pic at the top of page. Yep. Some of you know what's about to go down next. I'm about to build a 1/24 solid axle monster truck!
I've mentioned them several times now, but to do it once more – a lot of folks are building baby solid axle monster trucks by combining Axial SCX24 guts with purpose built custom chassis (I'm going to use the SWMS one) and model kit wheels/tires.
Reader and buddy Jeff M brought a whole fleet of his minis out to the BIGFOOT Open House and completely sold me on them. For an example of the size difference, this is one of Jeff's 1/24 Grave Diggers in front good friend Josh Rhodes' modified Clod Buster Grave Digger.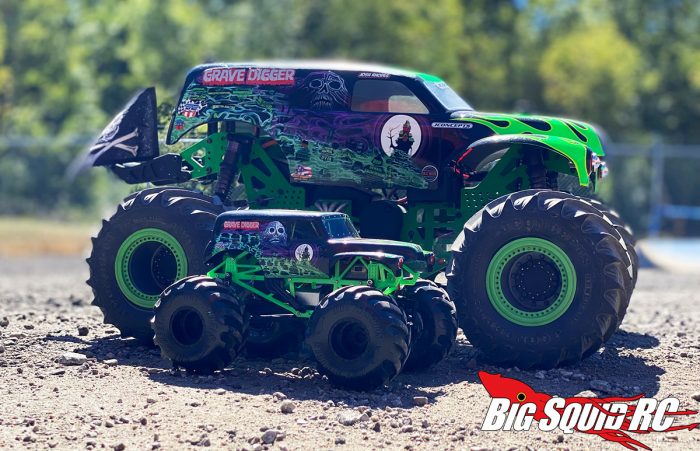 The most surprising thing about the tiny scale trucks is how controllable they feel. They are nimble and go where you want them. We will see how that is when I add a mini-brushless to them!
Assuming all goes well with the truck build, the next step is going to be building a scale stadium course to race them on. I've recently gotten experience doing foam carving, so I intend to build said track out of insulation foam and a hot knife!
Right now the chassis for the trucks are sold out but I am hoping to be in on the next batch. As soon as that happens, I'll be starting the detailed build! This is going to be a fun winter project- both the truck(s) and track. I'll cover it all in-depth, right here!