Monster Truck Madness – Advancing the Timing
This weekend my monster truck racing club FINALLY kicks off the 2021 outdoor season! I am pumped. It's been a long winter for me. One of the longest of my life.
I've spent the last week getting my race fleet prepped, with the biggest changes being in my Sport Modified Class rigs. This is the class where you must used a brushed motor that's limited to 17 turns. I had been using various ones over the years, but with JConcepts releasing their new Silent Speed 17t motors, I put one of them in each of my two trucks that race the class.
Nuclear Banana is a modified Axial SMT10 and Rotten Apple 2 is an Axial-based ACRC Havoc truck. Both monsters are single motor.
The JConcepts Silent Speed is a rebuildable racing motor where the timing is able to be adjusted. Some folks have questions on how to do a timing advancement, so I'm going to show you. It's simple.
Now, before you do this you should know that when you do advance timing, you are allowing the motor to run faster and, by proxy, hotter. Cranking up the timing in a light vehicle like a 2WD buggy usually isn't a big deal as long as you are smart with gearing. A heavy monster truck is a different story. I would recommend NOT doing this in a bashing situation.
However, I'm not bashing. I'm racing. I need maximum speed for 20-60 seconds at a time. So, I'm gonna get the most out of the motor as I can.
Advancing the timing is a simple process. On the JConcepts motor you will loosen two screws on the back. Don't take them out, just loosen them so the endbell can rotate.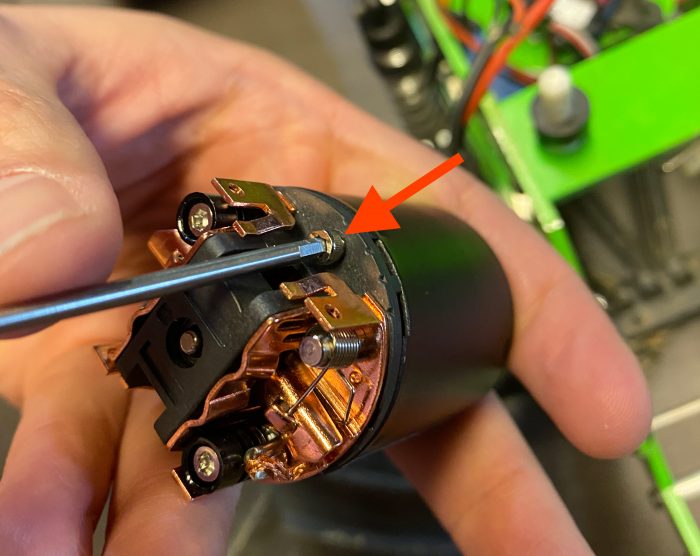 If you want to advance the timing, you turn it COUNTER CLOCKWISE. To slow down the motor, you can turn it CLOCKWISE.
It's recommended that you experiment with turning timing up and seeing how hot a vehicle gets to find the sweet spot. As noted before, I don't care about that. I need SPEED SPEED SPEED for short bursts of racing rounds. So I cranked it as far as it will go. The can is notched so the end bell can only rotate a finite amount. That's where I left it.
I actually blew a Dynamite ESC when testing the truck out, so I replaced it with a Hobbywing QuicRun 1080. These are VERY NICE programmable brushed ESCs.
With my gearing being as tall as I can get it plus the timing in the system, the truck gets hot after a couple minutes. More than enough time for racing, though! I'll report back as to how the trucks perform with with the new mills!